I'm so incredibly excited to officially share some big news…
A prequel novella to my new PROTECT AND SERVE romantic suspense series will be appearing in WAY OF THE WARRIOR, an anthology featuring some of the biggest names in romantic suspense: Suzanne Brockmann, Julie Ann Walker, Catherine Mann, Tina Wainscott, Anne Elizabeth, M. L. Buchman, and Lea Griffith. And, to add an extra layer of "awesome" to this news, all author and publisher proceeds go to support the Wounded Warrior Project!
I'm thrilled and honored to be part of this project and to have the opportunity to give back to those who have sacrificed so much. And I have to give mad props to Julie Ann Walker, and to our agent, Nicole Resciniti, for their tireless efforts to make this anthology happen. And huge thanks to our publisher, Sourcebooks, for their generosity.
WAY OF THE WARRIOR will release in both e-book and mass market paperback on May 5, 2015. Stay tuned for more info as we get closer to the release.
In the meantime, you can pre-order your copy of WAY OF THE WARRIOR today from any of the following retailers:

I'm pleased to announce that I'll be taking part in the Hamilton East Public Library Local Authors Faire on Saturday, September 27, from 1-4 p.m. in Noblesville, Indiana.
During the event, I'll be reading an excerpt from one of my Transplanted Tales novels, signing books*, and giving away Transplanted Tales swag. Here's the full schedule of author appearances:
1:30 – 2 PM:  Readings
1:30 – 1:35 PM:  Suzanne Purewal
1:35 – 1:40 PM:  Kathy Laugheed
1:40 – 1:45 PM:  Kate SeRine
1:45 – 1:50 PM:  Kristen Mott
1:50 – 1:55 PM:  Bill Kenley
1:55 – 2:00 PM:  Morgan Wyatt
2 – 2:30 PM:  Panel Discussion
Kurt Meyer
Larry Sweazy
Kermit Paddack
Susan Crandall
Amy Shankland
Stacy Morgan
Planned topics for the Panel Discussion are:
1.       What is the one piece of advice you wish you had received before you began the publishing process?
2.       Describe your writing process and the techniques you use to overcome the dreaded writer's block.
2:30 – 2:45 PM:  Q-&-A period, if time permits.
2:45 – 3 PM: Drawing for Raffle Items
3 – 4 PM: Meet the Public!
The remainder of the afternoon, both before and after the readings and discussions, will be "Meet & Greet" time with fans.
Hope to see you there!
*Note: I won't be selling copies of any of my books at the event, but if you have a copy and would like me to sign it, please feel free to bring it with you. I will have eKensington samplers and bookplates that I'll be signing and giving away.
  With only a few weeks left until the release of EVER AFTER, I'm happy to be able to share my blog tour schedule!
Special thanks to all the awesome bloggers who will be hosting me during the tour. I can't wait to share Gideon and Arabella's story with everyone! ~Kate P.S. Don't forget to enter the blog tour giveaway by using the widget below and by visiting the various stops on the tour! a Rafflecopter giveaway
I'm so excited to take part in the official cover reveal for the re-release of Kait Ballenger's SHADOW HUNTER, the prequel novella to her Execution Underground series!  Now you can pre-order a copy of the novella for just .99 cents!
I loved this action-packed beginning to Kait's series–even though the heartbreaking cliffhanger at the end left me reeling. And I gotta say, I absolutely love this gorgeous cover! It perfectly captures Damon's internal torment.
Without further ado, offer up some cover love for Kait's SHADOW HUNTER: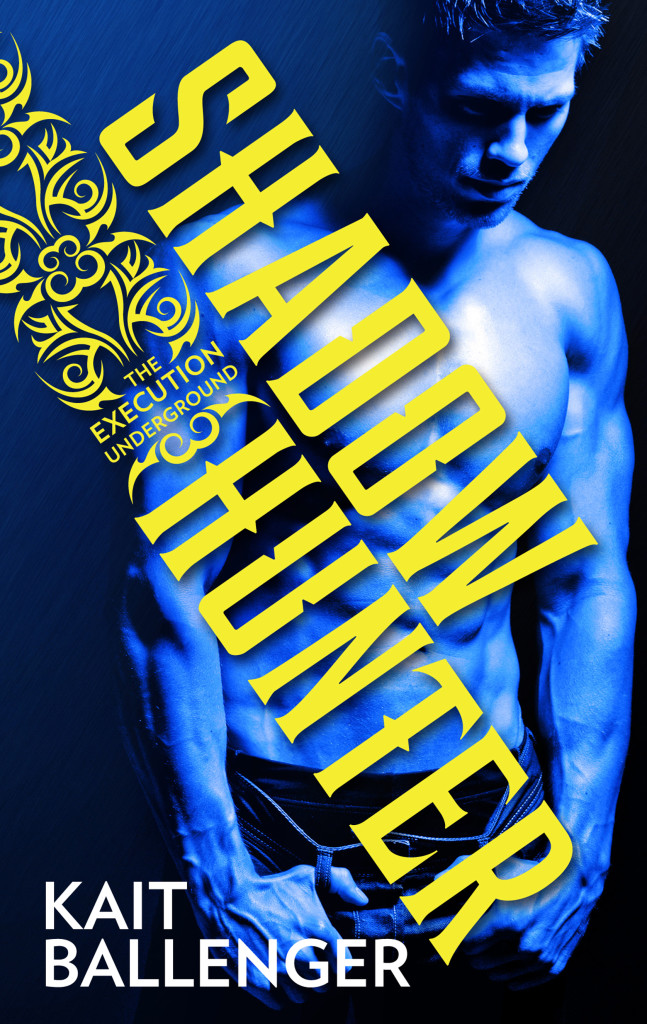 Author: Kait Ballenger
Title: Shadow Hunter (Execution Underground # .5)
Publisher: Harlequin
Release Date: August 4, 2014
Vampire hunter Damon Brock's first assignment with the Execution Underground is Rochester, New York, a city crawling with the undead.  But he isn't the only hunter in town gunning for vamp blood.
Tiffany Solow is fierce and ruthless when it comes to slaying the monsters that destroyed her family-and she works solo. But being alone is no longer so desirable when she meets the mysterious hunter who wants more than just her turf. As they work to massacre the local covens, the line between good and evil blurs when they are forced to decide between their lifelong beliefs… and their newfound hearts.
Pre-order your copy now!
Amazon * Barnes and Noble * Kobo
Author Bio:
Kait Ballenger is a full-time paranormal romance author, wife, former professional bellydancer, and soon-to-be-professor. She has a BA in English from Stetson University and an MFA in Creative Writing from Spalding University. She lives in Central Florida with her screenwriter husband and three sweet furry babies, all three of whom are named after fictional characters. Kait hopes that one day with hard work and dedication, she will be a bestselling author, and then, people will name their pets after her characters, too.
Find Kait:
Website: www.kaitballenger.com
Facebook: www.facebook.com/kaitlynschulzromanceauthor
Twitter: @kait_ballenger or https://twitter.com/kait_ballenger
Google+: https://plus.google.com/108985176548347481138
Pinterest: www.pinterest.com/kaitballenger/
Goodreads: www.goodreads.com/kaitballengerauthor
Well, I made it back from New Orleans and RT 14 exhausted but in one piece. Thanks to all of you who joined in the fun!  I'll be posting photos from the trip sometime soon, I promise!
And now that I've had a chance to catch my breath and settle back in, I'm super excited to finally be able share some awesome news with all of you…
In addition to my TEMPLAR LEGACY series, which will be releasing with Kensington next year, I'll be releasing another new series with Sourcebooks in 2015! My PROTECT AND SERVE romantic suspense series features four brothers with a long, legendary family history in law enforcement. Here's the official announcement from Publishers Marketplace:
Kate SeRine's TAKEN, the first book in her PROTECT AND SERVE romantic suspense series, in which an FBI agent who turned his back on his legendary family returns to his hometown to solve a high-profile kidnapping and is forced to work side-by-side with the woman who broke his heart, to Cat Clyne at Sourcebooks, in a three-book deal, for publication in October 2015, by Nicole Resciniti at The Seymour Agency.
Big hugs to my incredible agent and dear friend, Nicole Resciniti! I look forward to sharing the stories of the sexy Dawson brothers and the smart, strong, and sassy women who love them! Stay tuned for more info in the months to come.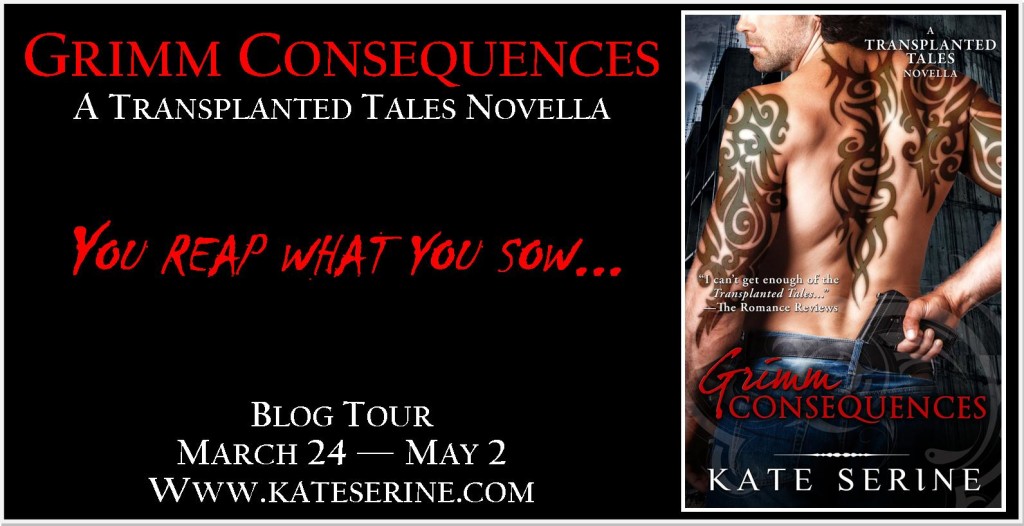 It's almost time! Just one week until the release of GRIMM CONSEQUENCES. I'm sooo excited to share more of Tess and Nate's story! And to celebrate, I'll be chatting live with readers on Facebook next Thursday, April 17th, at 8:00 p.m. EDT! You can find all the details and RSVP my clicking here.
I'll also be giving away some AWESOME prizes, including books, swag, and other fun stuff! Stay tuned for a full list of prizes and participating authors.
All you have to do to enter the giveaway is like the FB post that night and leave a comment and/or ask a question. It's that easy! After the chat, a winner will be randomly selected.
Want to enter early? RSVP for the event and automatically receive 5 entries. Share the post and earn 5 more entries!
See you on the 17th!

I'm thrilled to finally be able share some exciting news! In spring 2015, I'll be expanding my repertoire to include romantic suspense. Here's the official announcement from Publishers Marketplace:
"Kate SeRine's LEGACY OF SECRETS, in which a member of a covert group of modern-day Knights Templar, working outside the law, is sent to rescue a young mother and her son from a domestic terrorist cell, to Alicia Condon at Kensington, in a nice deal, in a two-book deal, for publication in Spring 2015, by Nicole Resciniti at The Seymour Agency."
Big hugs to my super-agent, Nicole Resciniti, and to my amazing editor, Alicia Condon. I can't wait to share the sexy men of my TEMPLAR LEGACY series with all of you! Stay tuned for updates in the coming months.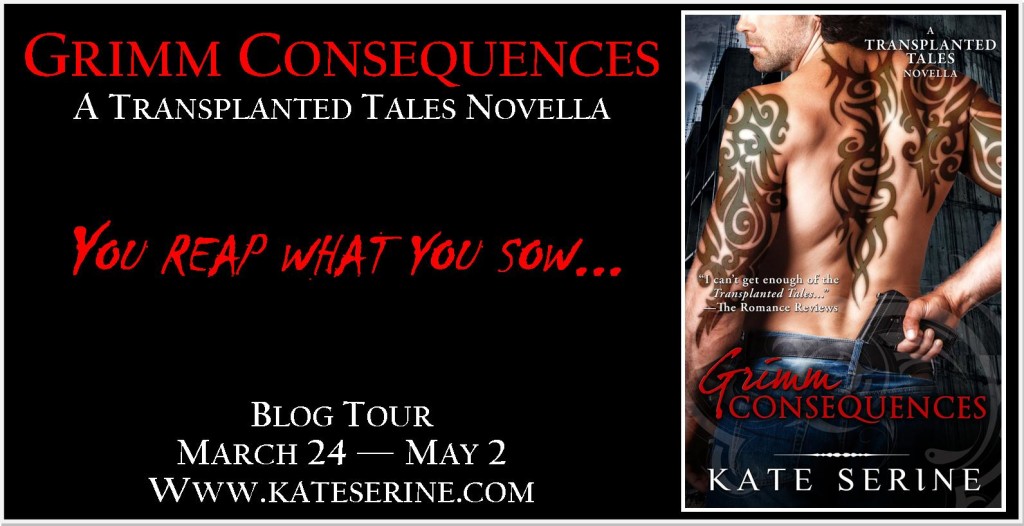 With the release date for Grimm Consequences rapidly approaching, I'm happy to announce the blog tour dates! I can't wait to share more of Tess and Nate's story and am really looking forward to celebrating with all of you! Here's where I'll be visiting between March 24th and May 2nd:
March 24th – Caffeinated Book Reviewer
March 26th – Kindle-aholic's Book Pile
March 28th – Fight For Your Write
April 2nd – The Reading Cave
April 4th – Sabina's Adventures in Reading
April 7th – Books Make Me Happy Reviews
April 8th – Book Lovin' Mamas
April 9th – Urban Girl Reader
April 10th – Little Read Riding Hood
April 15th – Yummy Men and Kick Ass Chicks
April 17th – Talk Supe
April 17th – Live Facebook Chat
April 18th – Bookaholic Cat
April 21st – Romancing the Dark Side
April 23rd – My world…in words and pages
April 25th – Tonya Kuper
April 29th – Readers Confession
April 30th – Between Dreams and Reality
May 2nd – Hot WIPs and Sassy Chicks
TBD – WTF Are You Reading?
TBD – Kait Ballenger
Come join the fun! And be sure to enter the following giveaway when you visit each of my awesome blog tour hosts!


a Rafflecopter giveaway

I am sooooo excited to share the news that the first three books in my Transplanted Tales –  RED, THE BETTER TO SEE YOU, and ALONG CAME A SPIDER - are all on sale for Kindle, NOOK, and iBooks for a limited time!
Just check out the links below:
Amazon ** B&N ** iBookstore
Happy reading!

Oh, friends…. I am so delighted to be able to share my cover and blurb for Ever After (Transplanted Tales #4), featuring Gideon Montrose and Arabella Locksley!!
I am over-the-moon in love with this cover! Many thanks to Kensington and to Kim Killion and Killion Designs for creating yet another gorgeous cover for my Tales!
To celebrate, I'm offering up a $25 gift card to either Amazon, Barnes and Noble, or Books A Million (winner's choice!). Just enter using the rafflecopter widget at the end of the post. Without further ado…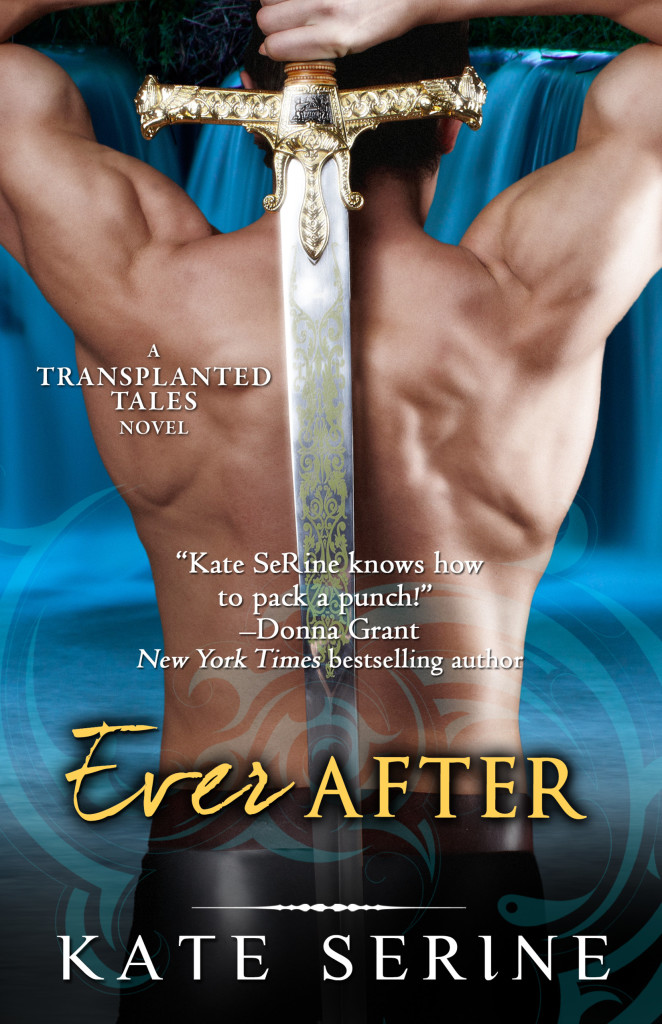 Title: Ever After (Transplanted Tales #4)
Publisher: eKensington
Release Date: August 21, 2014
To Catch a Thief…
For centuries, Gideon Montrose has served the King of Fairies without question and, often, without mercy. So when the King orders him to apprehend a notorious thief, Gideon obeys. But when he finally gets his hands on the beautiful culprit, Gideon's in for a shock.
Arabella Locksley is none other than the spirited, unpredictable woman he knew back in Make Believe as Robin Hood — the love of his life whose tragic death destroyed his chance at Happily Ever After.
Now, he has an impossible choice. Betray the woman he once loved, or the king he's bound to serve?
 * * * Available for pre-order at Amazon * B&N * iBookstore * * *