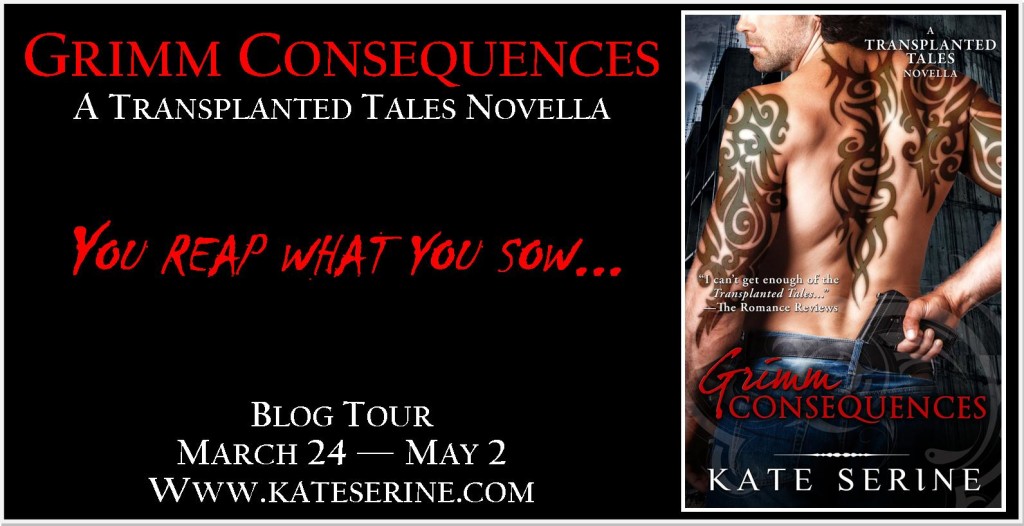 It's almost time! Just one week until the release of GRIMM CONSEQUENCES. I'm sooo excited to share more of Tess and Nate's story! And to celebrate, I'll be chatting live with readers on Facebook next Thursday, April 17th, at 8:00 p.m. EDT! You can find all the details and RSVP my clicking here.
I'll also be giving away some AWESOME prizes, including books, swag, and other fun stuff! Stay tuned for a full list of prizes and participating authors.
All you have to do to enter the giveaway is like the FB post that night and leave a comment and/or ask a question. It's that easy! After the chat, a winner will be randomly selected.
Want to enter early? RSVP for the event and automatically receive 5 entries. Share the post and earn 5 more entries!
See you on the 17th!

I'm thrilled to finally be able share some exciting news! In spring 2015, I'll be expanding my repertoire to include romantic suspense. Here's the official announcement from Publishers Marketplace:
"Kate SeRine's LEGACY OF SECRETS, in which a member of a covert group of modern-day Knights Templar, working outside the law, is sent to rescue a young mother and her son from a domestic terrorist cell, to Alicia Condon at Kensington, in a nice deal, in a two-book deal, for publication in Spring 2015, by Nicole Resciniti at The Seymour Agency."
Big hugs to my super-agent, Nicole Resciniti, and to my amazing editor, Alicia Condon. I can't wait to share the sexy men of my TEMPLAR LEGACY series with all of you! Stay tuned for updates in the coming months.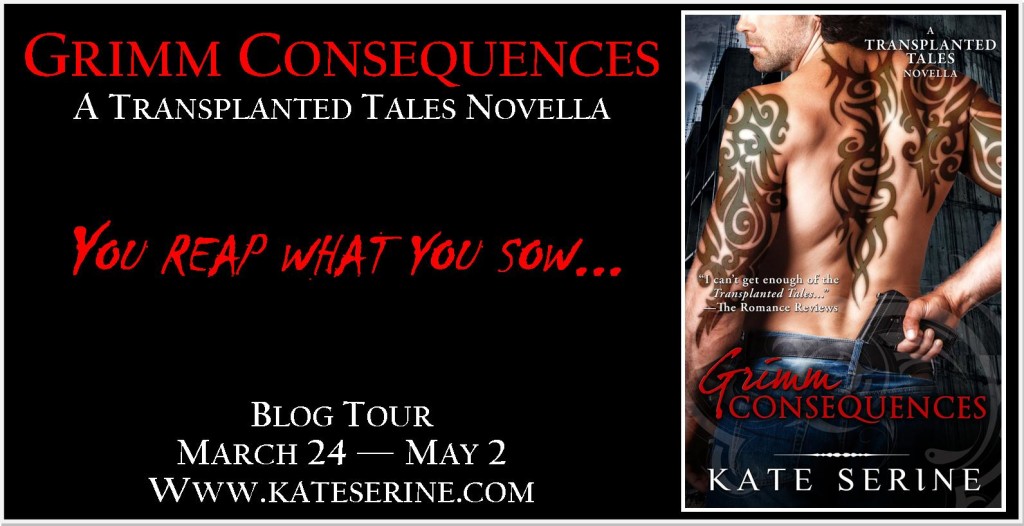 With the release date for Grimm Consequences rapidly approaching, I'm happy to announce the blog tour dates! I can't wait to share more of Tess and Nate's story and am really looking forward to celebrating with all of you! Here's where I'll be visiting between March 24th and May 2nd:
March 24th – Caffeinated Book Reviewer
March 26th – Kindle-aholic's Book Pile
March 28th – Fight For Your Write
April 2nd – The Reading Cave
April 4th – Sabina's Adventures in Reading
April 7th – Books Make Me Happy Reviews
April 8th – Book Lovin' Mamas
April 9th – Urban Girl Reader
April 10th – Little Read Riding Hood
April 15th – Yummy Men and Kick Ass Chicks
April 17th – Talk Supe
April 17th – Live Facebook Chat
April 18th – Bookaholic Cat
April 21st – Romancing the Dark Side
April 23rd – My world…in words and pages
April 25th – Tonya Kuper
April 29th – Readers Confession
April 30th – Between Dreams and Reality
May 2nd – Hot WIPs and Sassy Chicks
TBD – WTF Are You Reading?
TBD - Kait Ballenger
Come join the fun! And be sure to enter the following giveaway when you visit each of my awesome blog tour hosts!


a Rafflecopter giveaway

I am sooooo excited to share the news that the first three books in my Transplanted Tales –  RED, THE BETTER TO SEE YOU, and ALONG CAME A SPIDER - are all on sale for Kindle, NOOK, and iBooks for a limited time!
Just check out the links below:
Amazon ** B&N ** iBookstore
Happy reading!

Oh, friends…. I am so delighted to be able to share my cover and blurb for Ever After (Transplanted Tales #4), featuring Gideon Montrose and Arabella Locksley!!
I am over-the-moon in love with this cover! Many thanks to Kensington and to Kim Killion and Killion Designs for creating yet another gorgeous cover for my Tales!
To celebrate, I'm offering up a $25 gift card to either Amazon, Barnes and Noble, or Books A Million (winner's choice!). Just enter using the rafflecopter widget at the end of the post. Without further ado…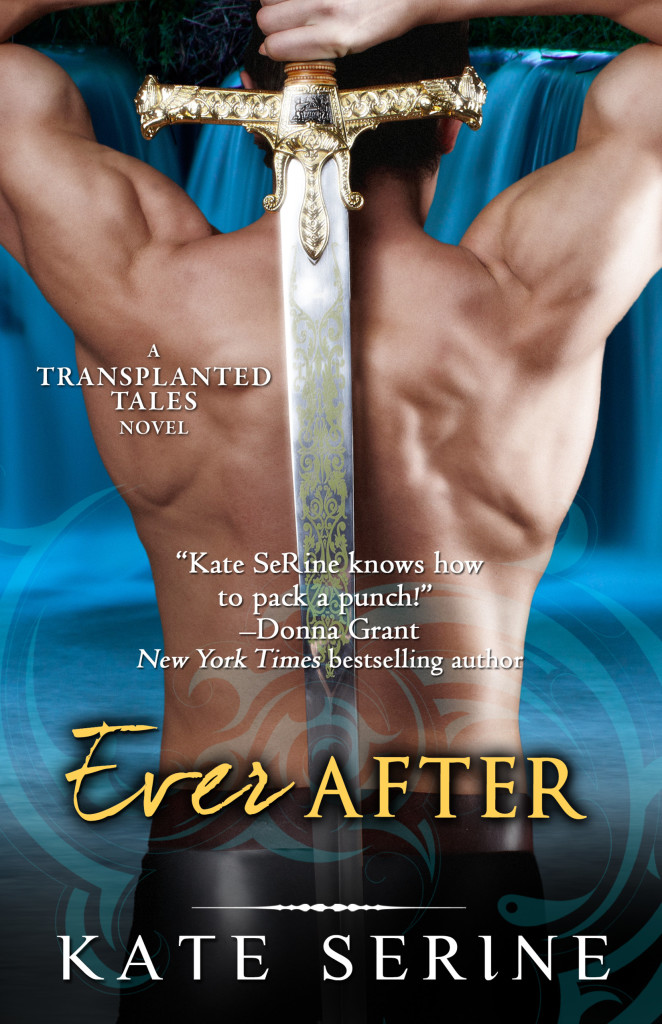 Title: Ever After (Transplanted Tales #4)
Publisher: eKensington
Release Date: August 21, 2014
To Catch a Thief…
For centuries, Gideon Montrose has served the King of Fairies without question and, often, without mercy. So when the King orders him to apprehend a notorious thief, Gideon obeys. But when he finally gets his hands on the beautiful culprit, Gideon's in for a shock.
Arabella Locksley is none other than the spirited, unpredictable woman he knew back in Make Believe as Robin Hood — the love of his life whose tragic death destroyed his chance at Happily Ever After.
Now, he has an impossible choice. Betray the woman he once loved, or the king he's bound to serve?
 * * * Available for pre-order at Amazon * B&N * iBookstore * * *
I'm thrilled to be participating in the cover reveal of my pal Tonya Kuper's debut novel, Anomaly (Schrodinger's Consortium #1), coming to you from Entangled Teen on November 4, 2014! Check out the awesome cover and enter below to win an e-ARC!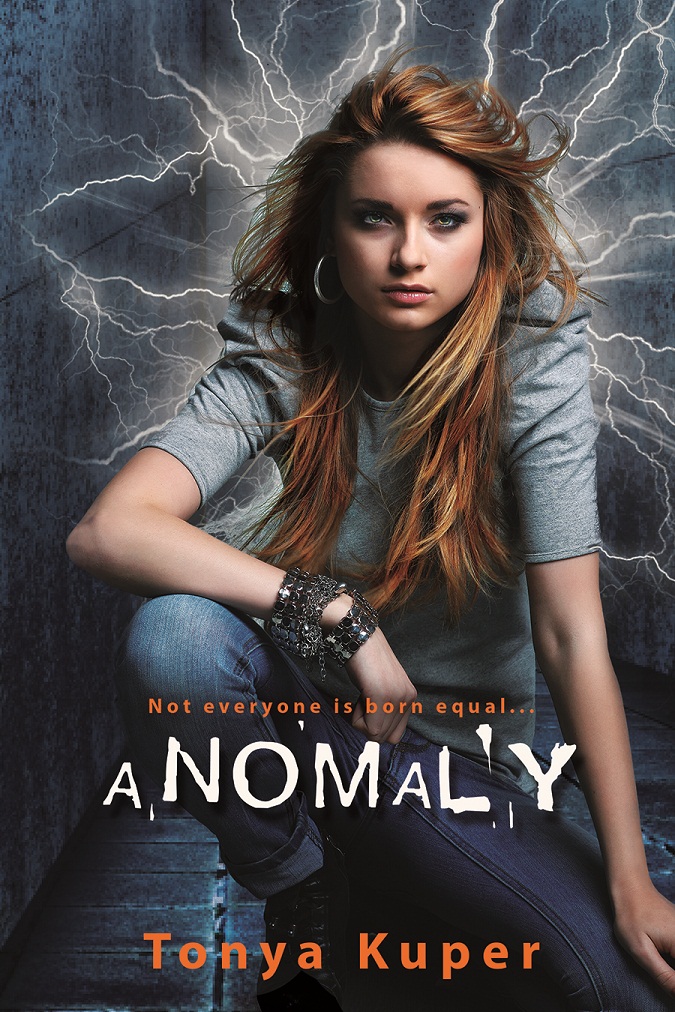 Title: ANOMALY (Schrodinger's Consortium #1)
Author: Tonya Kuper
Publisher: Entangled Teen
Pub. Date: November 4, 2014
Pages: 400
Find it: Goodreads, Amazon
What if the world isn't what we think?
What if reality is only an illusion?
What if you were one of the few who could control it?
Yeah, Josie Harper didn't believe it, either, until strange things started happening. And when this hot guy tried to kidnap her, shouting about ultimate observers and pushing and consortiums hell-bent on controlling the world… Well, that's when things got real. Now Josie's got it bad for a boy who weakens her every time he's near and a world of enemies on her tail who want to control her gift, so yeah, she's going to need more than just her wits if she hopes to survive much longer.
Einstein never saw this coming…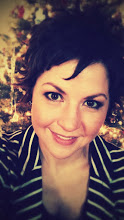 About Tonya:
YA scifi author of ANOMALY, out 11/14, Entangled Teen. Represented by Nicole Resciniti. Contributor at yastands.blogspot.com & allthewritenotes.com. Music freak. Chocolate addict.
Website/Twitter/Facebook/Goodreads
As a special treat, Tonya and Entangled Teen are giving away one e-ARC of ANOMALY!! And the giveaway is international. Just enter below for your chance to win!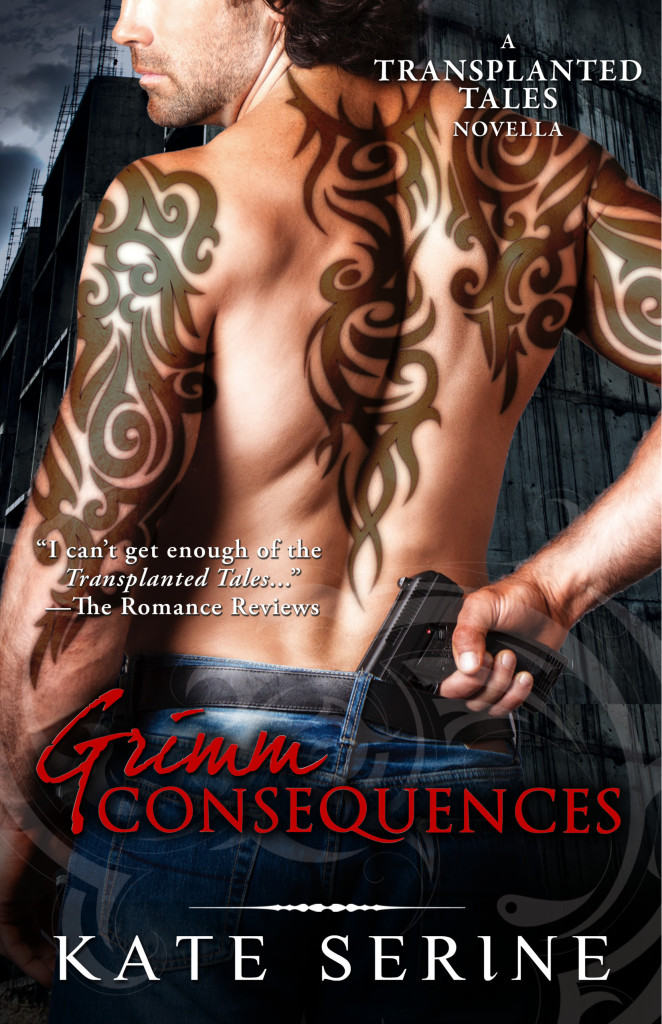 Happy holidays, everyone!! As a special present to all of you, I'm sharing the very first sneak peek of GRIMM CONSEQUENCES, my upcoming Transplanted Tales novella, over at The Reading Cave: http://readingcave.blogspot.com/2013/12/sneak-peak-of-grimm-consequences.html
Stop by and take a look at the next chapter in the love story of Tess "Red" Little and Nate Grimm. And while you're there, enter to win a PAPERBACK copy of RED and a $10 gift card to Amazon.com! Thanks to Angela at The Reading Cave for hosting the sneak peek and for offering the copy of RED in the giveaway!!
Happy reading!
I'm so happy to be a part of my pal Cecy Robson's release day blurb blitz for her most recent WEIRD GIRLS novella, A CURSED MOON! Sending out a HUGE congratulations to Cecy and wishing her every success!
I have to say, I absolutely love the WEIRD GIRLS and can't wait to read this novella about the girls' guy pal and "big brother" Bren. If you haven't tried the series yet, you're missing out! Start at the beginning and then run out and grab your copy of A CURSED MOON.

Meet the furry big brother that the Wird sisters never had…
Bren is a cocky, brash hound of a werewolf who loathes the idea of belonging to Aric's pack—much less finding a mate. But Bren's hotheaded behavior lands him in the doghouse when he defies Aric's authority in front of his pack, bringing up a sore subject that's bound to make the Alpha wolf's blood boil…
Luckily for him, no one can stay mad at Bren and his wild charm for long. And when some frightening ghosts launch a hostile paranormal takeover, Bren will team up with Celia Wird to take down the evil ghouls before they hurt someone they both love…
Includes a preview of the upcoming Weird Girls novel Cursed by Destiny!
** You can go get your copy of A CURSED MOON at Amazon or Barnes and Noble today!! **
And signed copies of SEALED WITH A CURSE and A CURSED EMBRACE
are available from University Bookstore.
Happy reading!!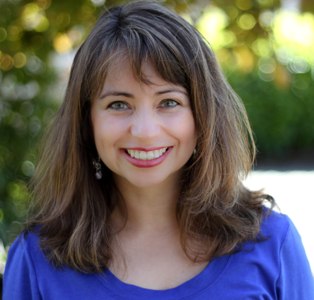 AUTHOR BIO:
Cecy (pronounced Sessy) Robson is a full-time writer, registered nurse, wife, and mother living in the Great Northwest. A member of Romance Writers of America, she attributes her passion for storytelling to the rough New Jersey neighborhood she was raised in. As a child, she was rarely allowed to leave the safety of her house and passed her time fantasizing about flying, fairies, and things that go bump in the night. Gifted and cursed with an overactive imagination, she began writing in May 2009.
Her Weird Girls Urban Fantasy Romance series is published with Penguin Random House's Signet Eclipse and released to stellar praise from multiple reviewers including: Publisher's Weekly, USA Today, and Romantic Times. THE WEIRD GIRLS: A Novella, SEALED WITH A CURSE, A CURSED EMBRACE, and A CURSED MOON: A Novella, are now available. CURSED BY DESTINY, the third full-length novel in the Weird Girls series releases January 7, 2014.
LINKS:
Website:          www.cecyrobson.com
Twitter:           https://twitter.com/cecyrobson
Facebook:        http://www.facebook.com/Cecy.Robson.Author
Goodreads:     http://www.goodreads.com/goodreadscomCecyRobsonAuthor
It's official, folks! I now have a blurb and a cover for my upcoming Transplanted Tales novella, GRIMM CONSEQUENCES! Yay!!!
GRIMM CONSEQUENCES is the sequel to RED and continues the story of Tess "Red" Little and Nate Grimm. In the chronology of the Tales, the events in the novella take place between RED and THE BETTER TO SEE YOU.
If you've read THE BETTER TO SEE YOU and ALONG CAME A SPIDER, you'll remember I've dropped hints that Nate and Tess have been through a lot since the end of RED. Well, you'll finally find out what happened to them that tested the strength of their love for one another and brought them even closer together.
Without further ado, here is the blurb to whet your appetite for the next chapter of Nate and Red's love story, coming to you April 17, 2014:
You reap what you sow…
Saying Nate Grimm has a dark past is an understatement. Fortunately, no one's bothered to look too closely at the Fairytale Management Authority's lead detective and part-time Reaper. And that's the way Nate wants to keep it. For after centuries of torment and loneliness, he's finally found happiness with the hot and hard-charging love of his life,  Tess "Red" Little.
Of course, his love for Tess is the reason there's a posse of Reaper judges after him, led by a sadistic bastard acquainted with Nate from once upon a time. Now, Tess will pay the price for Nate's transgressions unless Nate severs his ties to the transplanted Tales—and Tess—forever. His enemy has the advantage in speed, malice and brutality. But the Reapers have underestimated the depth of Nate's love and devotion. And the fury of his wrath…
**  Available for pre-order at Amazon.com * Barnes and Noble *  iTunes **
To celebrate my bright and shiny new cover and blurb, I've decided to give away an e-book copy of one of my Transplanted Tales novels to two winners, and one print copy of RED and a $10 gift card to the grand prize winner. Just enter below using the rafflecopter widget. And be sure to check back over the next few months for sneak peeks and additional fun leading up to the release of GRIMM CONSEQUENCES.
Happy reading!
a Rafflecopter giveaway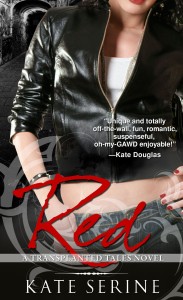 Yay!! I'm happy to report that RED (Transplanted Tales #1) is on sale for just $1.99 for a limited time at the following retailers:
Amazon  **  iTunes  **  Barnes and Noble  **  Sony Reader Store
If you've been wanting to read the Transplanted Tales, now is a great time grab a copy of Tess and Nate's story before their follow-up novella, GRIMM CONSEQUENCES, comes out in April 2014. These two are very close to my heart–I hope you'll fall in love with them, too!
"My name is Tess Little. But everyone calls me Red."
Once upon a time, a spell went awry, stranding Make Believe characters in the ordinary world.   Since then, Tess "Red" Little—a/k/a Little Red Riding Hood—has worked as an Enforcer for the Chicago branch of the Fairytale Management Authority. But, consider yourself warned—she's not just some waif with a basket of goodies. All grown up and with nothing to lose, a gun and combat boots is more her style. And Red's new assignment threatens to be short on happily ever afters…
Someone is murdering transplanted Tales in gruesome fashion. The list of fictional characters capable of such grisly acts is short and includes more than one of Red's old flames. And if that wasn't bad enough, there's another complication, in the form of sexy, enigmatic Nate Grimm, the FMA's lead detective and part-time Reaper. Used to following her own rules and living life on the edge, Red has managed to avoid taking on a partner until now. But Nate's dark side makes him perfect for a case like this. That is, if she can trust him. Because if there's one thing Red knows for sure, it's that believing in the wrong person can have big, bad consequences…
* * * *
Happy reading!