I'm so happy to be a part of my pal Cecy Robson's release day blurb blitz for her most recent WEIRD GIRLS novella, A CURSED MOON! Sending out a HUGE congratulations to Cecy and wishing her every success!
I have to say, I absolutely love the WEIRD GIRLS and can't wait to read this novella about the girls' guy pal and "big brother" Bren. If you haven't tried the series yet, you're missing out! Start at the beginning and then run out and grab your copy of A CURSED MOON.

Meet the furry big brother that the Wird sisters never had…
Bren is a cocky, brash hound of a werewolf who loathes the idea of belonging to Aric's pack—much less finding a mate. But Bren's hotheaded behavior lands him in the doghouse when he defies Aric's authority in front of his pack, bringing up a sore subject that's bound to make the Alpha wolf's blood boil…
Luckily for him, no one can stay mad at Bren and his wild charm for long. And when some frightening ghosts launch a hostile paranormal takeover, Bren will team up with Celia Wird to take down the evil ghouls before they hurt someone they both love…
Includes a preview of the upcoming Weird Girls novel Cursed by Destiny!
** You can go get your copy of A CURSED MOON at Amazon or Barnes and Noble today!! **
And signed copies of SEALED WITH A CURSE and A CURSED EMBRACE
are available from University Bookstore.
Happy reading!!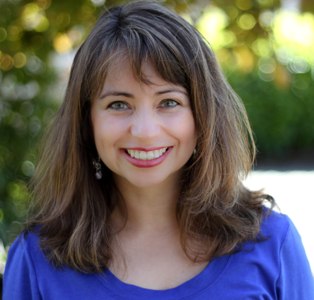 AUTHOR BIO:
Cecy (pronounced Sessy) Robson is a full-time writer, registered nurse, wife, and mother living in the Great Northwest. A member of Romance Writers of America, she attributes her passion for storytelling to the rough New Jersey neighborhood she was raised in. As a child, she was rarely allowed to leave the safety of her house and passed her time fantasizing about flying, fairies, and things that go bump in the night. Gifted and cursed with an overactive imagination, she began writing in May 2009.
Her Weird Girls Urban Fantasy Romance series is published with Penguin Random House's Signet Eclipse and released to stellar praise from multiple reviewers including: Publisher's Weekly, USA Today, and Romantic Times. THE WEIRD GIRLS: A Novella, SEALED WITH A CURSE, A CURSED EMBRACE, and A CURSED MOON: A Novella, are now available. CURSED BY DESTINY, the third full-length novel in the Weird Girls series releases January 7, 2014.
LINKS:
Website:          www.cecyrobson.com
Twitter:           https://twitter.com/cecyrobson
Facebook:        http://www.facebook.com/Cecy.Robson.Author
Goodreads:     http://www.goodreads.com/goodreadscomCecyRobsonAuthor
It's official, folks! I now have a blurb and a cover for my upcoming Transplanted Tales novella, GRIMM CONSEQUENCES! Yay!!!
GRIMM CONSEQUENCES is the sequel to RED and continues the story of Tess "Red" Little and Nate Grimm. In the chronology of the Tales, the events in the novella take place between RED and THE BETTER TO SEE YOU.
If you've read THE BETTER TO SEE YOU and ALONG CAME A SPIDER, you'll remember I've dropped hints that Nate and Tess have been through a lot since the end of RED. Well, you'll finally find out what happened to them that tested the strength of their love for one another and brought them even closer together.
Without further ado, here is the blurb to whet your appetite for the next chapter of Nate and Red's love story, coming to you April 17, 2014:
You reap what you sow…
Saying Nate Grimm has a dark past is an understatement. Fortunately, no one's bothered to look too closely at the Fairytale Management Authority's lead detective and part-time Reaper. And that's the way Nate wants to keep it. For after centuries of torment and loneliness, he's finally found happiness with the hot and hard-charging love of his life,  Tess "Red" Little.
Of course, his love for Tess is the reason there's a posse of Reaper judges after him, led by a sadistic bastard acquainted with Nate from once upon a time. Now, Tess will pay the price for Nate's transgressions unless Nate severs his ties to the transplanted Tales—and Tess—forever. His enemy has the advantage in speed, malice and brutality. But the Reapers have underestimated the depth of Nate's love and devotion. And the fury of his wrath…
**  Available for pre-order at Amazon.com * Barnes and Noble *  iTunes **
To celebrate my bright and shiny new cover and blurb, I've decided to give away an e-book copy of one of my Transplanted Tales novels to two winners, and one print copy of RED and a $10 gift card to the grand prize winner. Just enter below using the rafflecopter widget. And be sure to check back over the next few months for sneak peeks and additional fun leading up to the release of GRIMM CONSEQUENCES.
Happy reading!
a Rafflecopter giveaway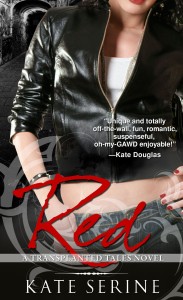 Yay!! I'm happy to report that RED (Transplanted Tales #1) is on sale for just $1.99 for a limited time at the following retailers:
Amazon  **  iTunes  **  Barnes and Noble  **  Sony Reader Store
If you've been wanting to read the Transplanted Tales, now is a great time grab a copy of Tess and Nate's story before their follow-up novella, GRIMM CONSEQUENCES, comes out in April 2014. These two are very close to my heart–I hope you'll fall in love with them, too!
"My name is Tess Little. But everyone calls me Red."
Once upon a time, a spell went awry, stranding Make Believe characters in the ordinary world.   Since then, Tess "Red" Little—a/k/a Little Red Riding Hood—has worked as an Enforcer for the Chicago branch of the Fairytale Management Authority. But, consider yourself warned—she's not just some waif with a basket of goodies. All grown up and with nothing to lose, a gun and combat boots is more her style. And Red's new assignment threatens to be short on happily ever afters…
Someone is murdering transplanted Tales in gruesome fashion. The list of fictional characters capable of such grisly acts is short and includes more than one of Red's old flames. And if that wasn't bad enough, there's another complication, in the form of sexy, enigmatic Nate Grimm, the FMA's lead detective and part-time Reaper. Used to following her own rules and living life on the edge, Red has managed to avoid taking on a partner until now. But Nate's dark side makes him perfect for a case like this. That is, if she can trust him. Because if there's one thing Red knows for sure, it's that believing in the wrong person can have big, bad consequences…
* * * *
Happy reading!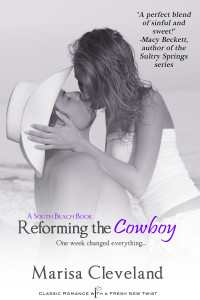 I'm so excited to have author Marisa Cleveland visiting today! Marisa is one of my agency sibs at the Seymour Agency and is one of the sweetest people you'd ever meet! But don't let her adorable smile or sweet ways fool you — her contemporary romance novels are H-O-T!! Here's a little bit about her debut novel, REFORMING THE COWBOY:
Country singer Billy Hardy needs to get back on the charts. His manager assures him headlining the opening of a cafe in South Beach is his best chance at getting back to the big time. If he fails, his career is over for good this time.
Lacey Durant can't believe opening night includes the country singer she crushed on through college. And her customers agree he's dreamy. But his playboy reputation threatens her cafe's image and she can't afford that. She insists Billy stay with her so she can keep an eye on him, and thwart overenthusiastic fans.
KS: Welcome, Marisa! Thanks so much for dropping by!
MC: Hi Kate! Thanks so much for having me! I love your blog, and I'm really excited to be a guest with you today.
KS: Why don't you start by telling everyone a little bit about yourself.
MC: Right now, I'm a contemporary romance writer enjoying the journey one sunset at a time.
KS: I can't wait to read REFORMING THE COWBOY, the first full-length novel in your South Beach series!!! Without giving any spoilers, can you tell everyone what they can expect?
MC: What a tough question! *nervous laugh* Since it's a contemporary romance novel, readers can expect a happy ending. They can expect a couple hours of feel great reading where they get a peek inside the lives of two people finding friendship and love. At least that's what I was hoping to write. *big grin*
KS: What was the inspiration for REFORMING THE COWBOY? How did this particular novel come about?
MC: I'm definitely inspired by everything around me. This one was fun, because my best friend helped me plot it so wonderfully. But the actual idea stemmed from The Voice. I rarely watch T.V., but one night I put down a book to watch Blake Shelton. It was crazy for me to stop reading because of a T.V. show. I blogged about it here: http://marisacleveland.wordpress.com/2013/09/21/because-of-blake-shelton/.  
KS: So, why South Beach for the setting? What about this location makes it perfect for a contemporary romance series?
MC: I love South Beach! My hubby and I take trips there, and it's like entering another dimension from our everyday lives. It's sunny like 250 days of the year. Plus, South Beach has it all. Shopping, Starbucks, beaches, hotels, the Art Deco district, people-watching, Palace, bars, restaurants, entertainers, volleyball, parasailing, puppies! So much I'm not listing here… Basically, it's a hub for HEA or HFN!
KS: It sounds like Billy Hardy is definitely a man in need of reforming… Could you give us a little glimpse into what we can expect from this super sexy Country singer?
MC:
[BILLY] "Back in the day I could slam out an entire album in one weekend."
[LACEY] She laughed. "I remember reading that. With a bottle of Patrón, a notebook, and a pen."
KS: How about Lacey Durant? What's the most important thing for readers to know about her?
MC: She's the girl I wish I had for a friend. She's opening a cafe exactly like the one I'd love to hang out in every night, and even though she's had an unlucky streak with men – namely her lying, cheating, good for nothing ex – she's determined to move on and succeed.
KS: How many books are currently planned for the SOUTH BEACH series? Anything you can share about the next book?
MC: My super, wonderful, amazing agent sold my South Beach series in a three-book deal! I wrote a novella that was released last February, and book two is in edits right now. I love this book, because it's with Beth, the lawyer, and of course my research had to include law firms. I have one Montblanc. Some lawyers have ten on their desks!
KS: What drew you to contemporary romance? Did you always know that this was a genre you wanted to pursue? What writers inspire you?
MC: I've been reading romance novels since I was twelve years old. Probably younger, but twelve is when I remember realizing that romance was my favorite genre. Before twelve, I would choose books from all over the bookstore. After twelve, I preferred the romance section over thrillers or mysteries. When I taught high school students, I wrote a light paranormal young adult novel. I still love that novel, and I might return to that age group one day, since I love to read it as well, but everything fell into place the moment I wrote an adult contemporary romance novel. 
KS: Is there anything exciting on your TBR list that you'd like to share?
MC: I have so many piles of print books in neat little stacks around my house, and there are so many digital books I'm dying to read! I can't wait to read the other Indulgence books that released with mine this month.
KS: So, what has been the most exciting moment in your publishing journey so far? Anything you'd change if you could do it over?
MC: The most exciting moment? Every moment! I try to enjoy the journey as it's happening, even the bad stuff, because I can usually find something good. It took me a long time to reach that point, but I made it, most days, and I wouldn't change anything – except maybe that one night I sobbed for hours and ate pizza and fries and was sure my world was ending. But it's all good now. One – or eight – shots later, I found my perspective.
KS: Thanks so much for coming by for a chat today, Marisa!
MC: Thanks again for having me! I love to connect with other readers and writers through social media. My website (www.marisacleveland.com) lists all the familiar places to find me.
Here are all the other places you can find Marisa:
Website – http://www.marisacleveland.com
Twitter – http://twitter.com/marisacleveland
Facebook – http://facebook.com/marisacleveland00
Google Plus – http://plus.google.com/102206201174009013772
Pinterest – http://pinterest.com/marisacleveland
Tumblr – http://marisacleveland.tumblr.com
Goodreads – http://goodreads.com/marisacleveland
And if you'd like to run out and buy REFORMING THE COWBOY, here are all the buy links:
Amazon  **  Barnes and Noble **  iTunes
And Marisa is hosting an awesome release party giveaway! Click HERE to enter!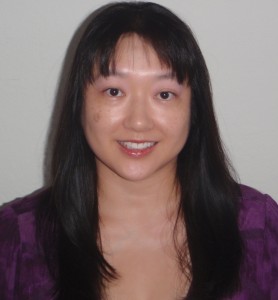 Author Bio:
Marisa Cleveland loves to laugh, hates to cry, and does both often. As a writer, she writes. Every day. If she couldn't express herself through writing, music, and dance, she would die. Perhaps because she married her best friend, her adult romance novels focus on playfully naughty relationships developed through friendship and family-oriented values. She believes romance novels are the perfect "how to" books, because no matter the obstacles, the characters keep working toward their happily ever after. She loves to connect with writers and readers through social media. Visit her website (www.marisacleveland.com) to find where she is online.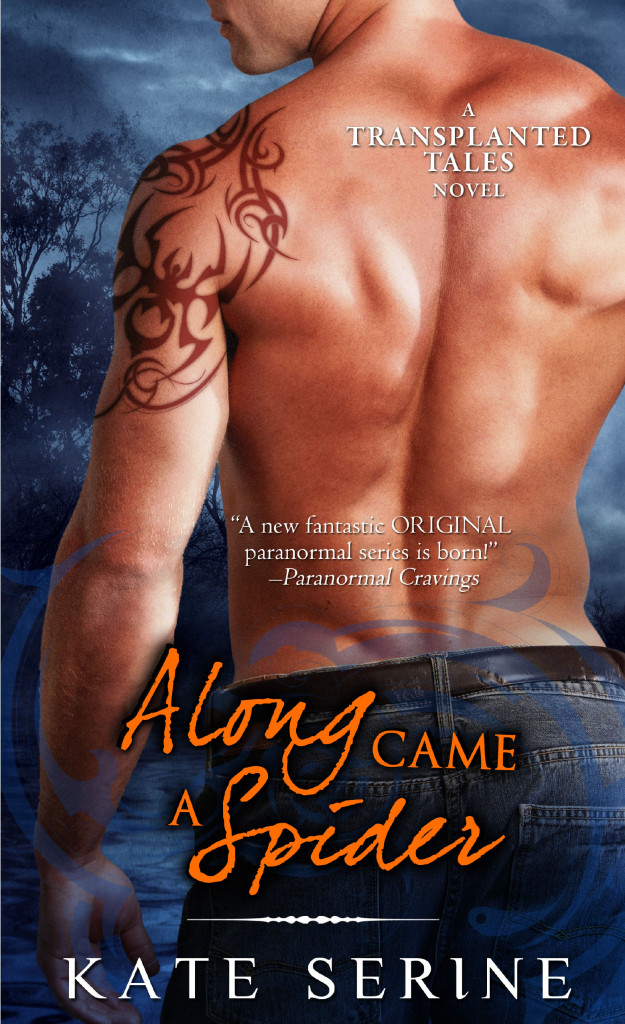 Woohoo! It's almost time to kick off the blog tour for Along Came a Spider (Transplanted Tales #3)!!
I'm so excited to finally be able to share Trish and Nicky's story with all of you! From July 29th through August 31st, I'll be visiting numerous blogs to chat about my Transplanted Tales. I hope you'll all stop by to share the fun and help me celebrate the release of Along Came a Spider!
Below is a list of all the fantastic folks who will be participating in the blog tour, offering reviews, exclusive excerpts, and some guest posts from yours truly.

   Happy reading!!
July 29th – Talk Supe
July 30th – Paranormal Cravings
July 31st – The Reading Cave
August 1st – Yummy Men and Kickass Chicks
August 2nd – Fight for Your Write
August 4th – Kait Ballenger
August 5th - WTF Are You Reading?
August 6th - Tonya Kuper
August 8th – Little Read Riding Hood
August 9th – Books Make Me Happy
August 12th – Literary Escapism
August 13th – Kindle-aholic's Bookpile
August 15th – My World… In words and pages
August 16th – Bookaholic Cat
August 20th – Caffeinated Book Reviewer
August 21st – Book Lovin' Mamas
August 22nd – Between Dreams and Reality
August 23rd – Urban Girl Reader
August 28th – Readers Confession
August 30th – Marisa Cleveland
And don't forget — there's a giveaway, too!!  Starting July 29th, you can enter here or at the participating blogs for your chance to win Transplanted Tales 1-3, a $50 gift card, and some Transplanted Tales swag!
Well, folks, I have to say, it's been one hell of a ride for my Transplanted Tales lately! RED hit the bestsellers lists on both Amazon and Barnes and Noble recently, and then took home the National Readers' Choice Award at RWA over the weekend. I'm still grinning! But the good news doesn't stop there!
I'm so happy to announce that there will be a Transplanted Tales novella and at least one more full-length Transplanted Tales novel coming in 2014!

The novella, GRIMM CONSEQUENCES, is a sequel to RED and is a continuation of the story of Nate Grimm and Tess "Red" Little.  GRIMM CONSEQUENCES is tentatively scheduled for publication in February 2014.
And I'm happy to report that Book 4 of my Transplanted Tales series will be Gideon's story! I fell in love with Gideon in THE BETTER TO SEE YOU and fell even harder when I wrote him in ALONG CAME A SPIDER. And considering the tweets and emails I received from readers, I get the impression you all fell for him, too!

  I hope you'll enjoy the story — and the very special woman — I have planned for the formidable fae bodyguard. The title for Book 4 is still pending, but I'll share as soon as I can. Publication is tentatively planned for fall 2014.
To celebrate the new books, I've decided to hold a giveaway. Three winners will receive an e-book of one of my Transplanted Tales books (winner's choice). The grand prize winner will receive a signed print copy of RED and some Transplanted Tales swag. Just enter using the rafflecopter widget below.

Thanks for all your support for my Transplanted Tales! The opportunity to write more Transplanted Tales novels wouldn't have been possible without you, my amazing readers! XOXO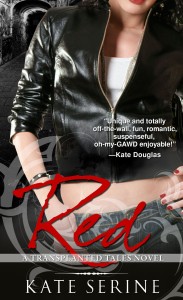 I am so incredibly excited to announce that RED (Transplanted Tales #1) has won the National Readers' Choice Award in the paranormal romance category! I couldn't be more thrilled!!
Special thanks to the members of Oklahoma RWA, who sponsored the contest, and to the judges who gave their time to read and score all of the entries. I'm so honored to have been selected!
And I also have to say thank you to my agent, Nicole Resciniti, and all the folks at Kensington — especially my editor, Alicia Condon. Hugs all around! XOXO
Check back here Monday, July 22nd, for some other exciting news about my Transplanted Tales, and for your chance to win a signed paperback copy of my award-winning novel and some Transplanted Tales swag!
One thing I absolutely love to do is recommend fabulous books! And my friend Cecy Robson's WEIRD GIRLS series certainly falls into that category!! If you're new to my blog, check out my thoughts on her WEIRD GIRLS novella and the first book in the series, SEALED WITH A CURSE. If you love kick-ass heroines, edge-of-your-seat action, and some seriously tantalizing sexual tension, you should definitely check out the WEIRD GIRLS!
And, let me tell you, A CURSED EMBRACE (Weird Girls #2)* is just as amazing as its predecessors! There's just as much heart-pounding action and suspense to keep you flying through the pages. And this time there's a lot more of the smexy, too. Always a plus, in my book!!  (And — wowza! — it's steamy!)  But, consider yourself warned — this is urban fantasy, folks, so be prepared for a gut-wrenching emotional roller coaster that will leave you breathless and begging for the next installment…
Here's a little bit more about it to whet your appetite: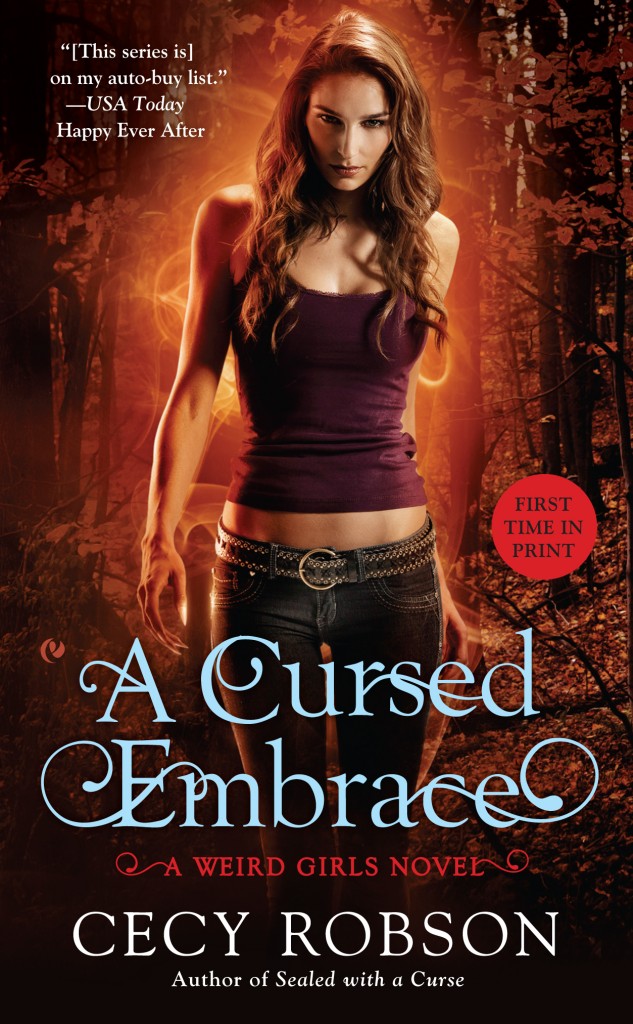 Title: A CURSED EMBRACE (Weird Girls #2)
Author: Cecy Robson
Publisher: Penguin Signet Eclipse
Release Date: July 2, 2013
Celia Wird and her three sisters are just like other twentysomething girls—with one tiny exception: They are the products of a curse that backfired and gave each of them unique powers that made them, well, a little weird.…
After Celia Wird and her sisters help master vampire Misha save his family, their powers are exposed to the supernatural community of the Lake Tahoe region. But fame comes at a price, and being "weird" isn't always welcome.
To make matters worse, Celia desires the love of Alpha werewolf Aric, but his pack is bent on destroying their relationship to preserve his pureblood status. And once weres start turning up dead—with evidence pointing to the vampires—she must face the prospect of losing Aric forever. But the chaos only masks a new threat. An evil known as the Tribe has risen—and their sights are set on Celia and her sisters.
As a special treat, Cecy is giving away one signed copy of A CURSED EMBRACE and a fantastic swag prize package to one lucky U.S. resident.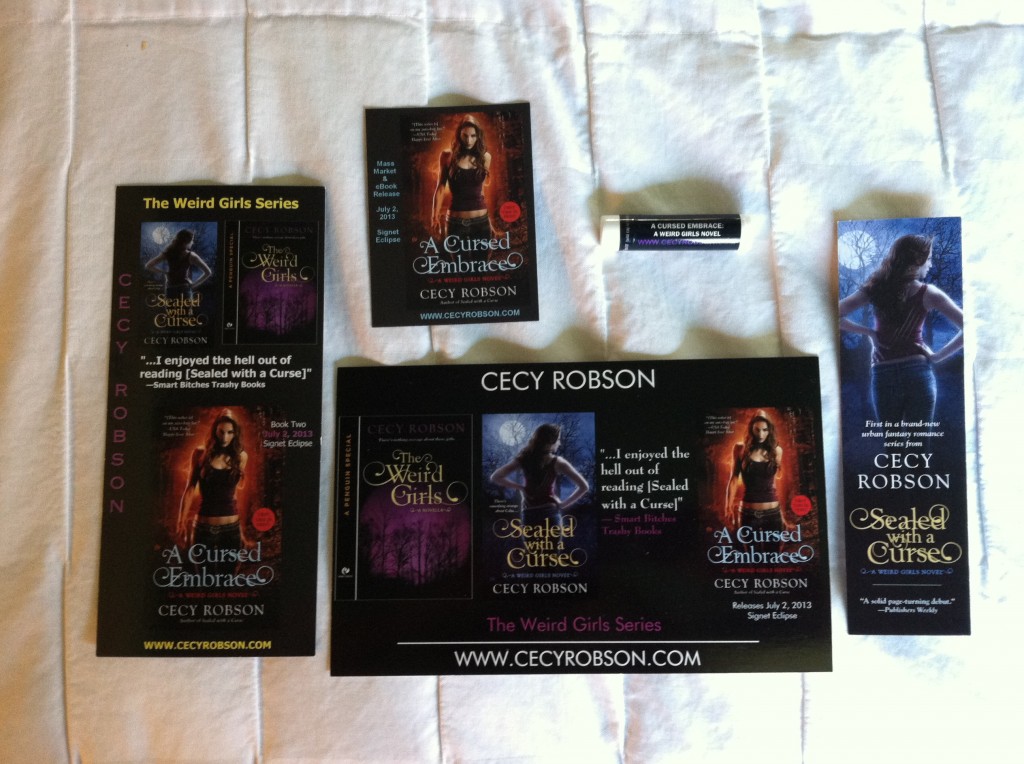 Just enter using the Rafflecopter widget below:
Author Bio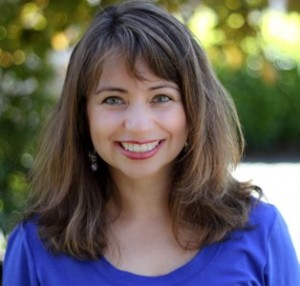 Cecy (pronounced Sessy) Robson is an author with Penguin's SIGNET ECLIPSE. She attributes her passion for story-telling back to the rough New Jersey neighborhood she was raised in. As a child, she was rarely allowed to leave the safety of her house and passed her time fantasizing about flying, fairies, and things that go bump in the night. Her dad unwittingly encouraged Cecy's creativity by kissing her goodnight wearing vampire fangs. Gifted and cursed with an overactive imagination, she began writing her Urban Fantasy Romance Series, Weird Girls, in May 2009. THE WEIRD GIRLS: A Novella and SEALED WITH A CURSE are now available. The second novel in The Weird Girls Series, A CURSED EMBRACE, releases July 2, 2013.
Website:               www.cecyrobson.com
Twitter:                 https://twitter.com/cecyrobson
Facebook:             http://www.facebook.com/Cecy.Robson.Author
Goodreads:           http://www.goodreads.com/goodreadscomCecyRobsonAuthor
*Note: I received an ARC of this book from the author in exchange for my honest opinion.
I just love to participate in cover reveals, especially when they're books I'm excited to read! And Marianne Harden's upcoming novel, Malicious Mischief, certainly falls into that category. Take a look at her awesome cover (I'm in love with the skull and crossbones on the fountain!), get a sneak peek at the novel, and be sure to enter to win the $25 gift card using the Rafflecopter widget at the end of the post!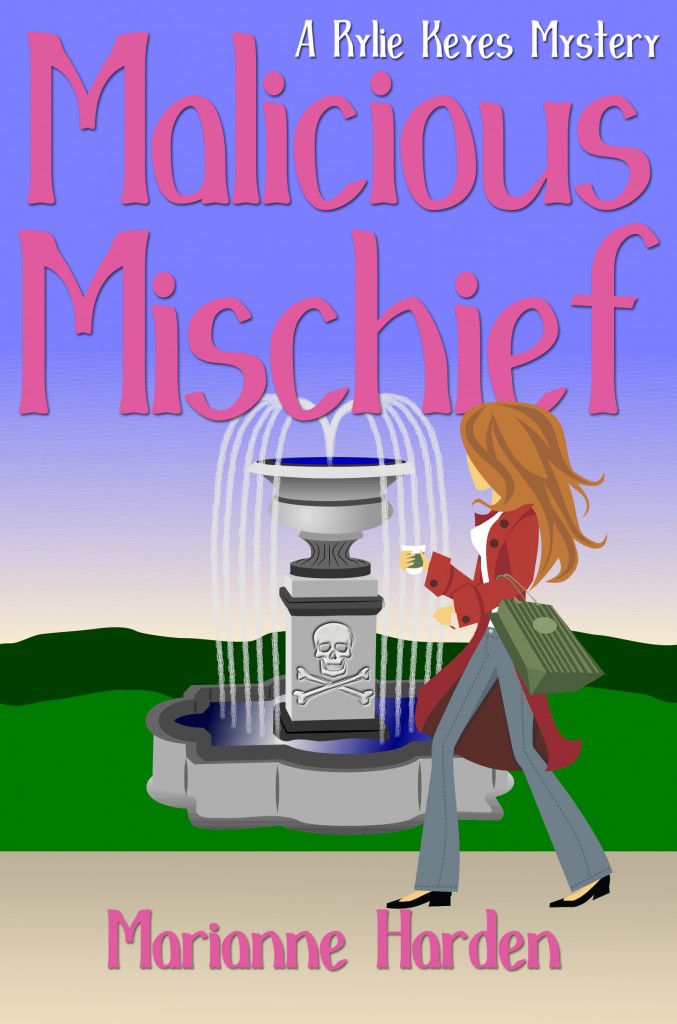 Title: Malicious Mischief (Mischief and Mayhem, #1)
Author: Marianne Harden
Publisher: Entangled
Release Date: October 22, 2013
Career chameleon, Rylie Keyes, must keep her current job. If not, the tax assessor will evict her ailing grandfather and auction off their ancestral home. When a senior she shuttles for a Bellevue, Washington retirement home winds up dead in her minibus, sticky with a half-eaten s'more, head clad in a cellophane bag, and a pocketed complaint letter accusing her of driving by Braille, her goal to keep her job hits a road bump.
The deceased was thought to be a penniless Nazi concentration camp survivor with a silly grudge against Rylie. However, the victim has enemies who will stop at nothing to keep their part in the murder a secret.
Forced to dust off the PI training she's kept hidden from her ex-detective grandfather, Rylie must align with a circus-bike-wheeling Samoan to solve the murder, all while juggling the attentions of two very hot police officers.
Excerpt
~When the chips are down, the buffalo is empty~
Am I a flake? Sort of. But I'm trying to change. My grandfather has property tax issues, and what troubles Granddad, troubles me. Good thing I've held down a steady job for months. A major big deal. Not the getting a job part—I've had lots—but the held down aspect. Somehow, I always end up unemployed, but not today.
Today, I am Rylie Tabitha Keyes, chauffeur to the seniors at Fountain of Youth Retirement Home (FoY.)
It was dawn Sunday as I eased my employer's van from one freeway onto another. After that, I concentrated on the wet asphalt up ahead. I didn't want to think about my job history or our financial woes. Instead I focused on the summery sunrise over the Cascade Mountains due east. I stared at it a moment, charmed by its contrast to the more typical Bellevue, Washington gloom brooding overhead.
I should've been asleep, but I needed to toss trash from a fundraiser rolling around in the back of the van. Leland Rosenberg, my boss at Fountain of Youth Retirement Home, had asked me to dump the bags at his second business, Rosenberg Laboratory, as FoY's Dumpsters were full from a recent bathroom remodel. His mood had been edgy, kind of insistent I dispose of them last night. I confess, before I could carry out this task, a minor traffic accident and an all-important overnight obligation had waylaid me. I didn't bother to sigh over how blunders always seemed to pepper my work performance. Some things were fated to be. After all, I slogged at my job for money not joy. It isn't that I don't like working at FoY, it just isn't my dream gig. You see, I yearned to be a private detective, a Veronica Mars 2.0. Problem is, my grandfather is against the idea. Dead set against it.
So with the stench from the trash bags mounting, I steered FoY's van onto the off-ramp and headed toward Rosenberg Laboratory just off the freeway exit. My mind was filled with thoughts of a steamy shower, maybe a few hours of shut-eye before punching the clock at nine. I stared forward, squinted. And iced over. Up ahead. Wrong-way traveling. A panel truck advanced, peeling rubber.
Faster.
Closer.
Zeroed in to hit me.
I whipped the van off the road, the red, white, and blue panel truck whizzing past. I slammed on the brakes, fighting to control the wheel. I wrestled with it, panicked, my mind flashing on one fortunate thing: no seniors were in the van.
Tons of hazards burst before my eyes. I struggled to absorb them. A mangled guardrail zigzagged up ahead; its many gaps from other out-of-control vehicles big as life. Worse was the wall of giant Douglas-firs growing beyond, lower trunks scarred, limbs low and swaying.
I was going to careen through the railing.
I was going to hit the trees.
I was going to die.
Book Links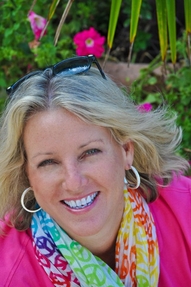 About Marianne Harden
Marianne Harden loves a good laugh. So much so, she cannot stop humor from spilling into her books. Over the years she has backpacked through the wilds of Australia, explored the exotics of Asia, soaked up the sun in the Caribbean, and delighted in the historic riches of Europe. Her goals in life are simple: do more good than harm and someday master the do-not-mess-with-me look. She divides her time between Switzerland and Washington State where she lives with her husband and two children.
Find Marianne Harden
Website: www.marianneharden.com
Twitter: www.twitter.com/MarianneHarden
Facebook: http://www.facebook.com/AuthorMarianneHarden
Goodreads: http://www.goodreads.com/author/show/6572367.Marianne_Harden
Now win some stuff!!
So…it has taken me a little while to get back into the swing of things since going to the Romantic Times Booklovers Convention in Kansas City earlier this month, but I finally managed to grab a few minutes to share some of my favorite moments.
Honestly, I could write several blog posts about what a fantastic time I had, but let me just sum it up by saying, "It totally rocked!" And the best part for me was just hanging out with readers and getting to meet some of the amazing authors and industry folks who were there. The entire event was such a fun, relaxing, and welcoming environment that I will definitely plan to go every year!
Unfortunately, I wasn't able to capture all the amazing moments at the con, but here are a few highlights:
Well, there you have it — a few highlights of my RT fun! I wish I had pictures of the Seymour Agency Shooting Stars Gala, the Kensington Spooky Soiree, and the Kensington Book Spree, but they were all so well-attended and such a whirlwind of activity I honestly didn't get the chance to take any pictures. But I hope we can do a repeat of these events in New Orleans next year at RT 2014. I hope to see all of you there!
Until then… take care and happy reading!
Kate