Transplanted Tales #2
---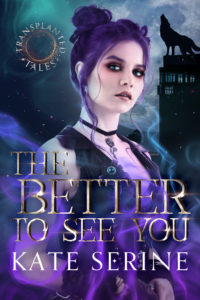 Once upon a time, a spell went awry and Make Believe characters were cast into the ordinary world. And the results aren't always happily ever after. . .
Everyone thinks fairy godmothers can do no wrong. But if not for a certain spell mis-cast by Lavender Seelie, Cinderella's former fairy godmother, the Tales would not be stuck in the Here and Now. Fortunately for Lavender, she's about to get a second chance at a happy ending. . .
The Refuge, a sanctuary for wayward Tales, seems like the perfect place for Lavender to start a new life–especially when she discovers an unexpected ally in Seth, the brooding werewolf who's been typecast as a villain ever since his run in with Little Red Riding Hood. But when humans from nearby towns start turning up dead, their bodies mutilated with archaic Tale symbols, Lavender wonders if Seth's deep sensuality has blinded her to the truth. And that distraction could put innocent lives in danger. Including her own. . .
---
Praise for The Better to See You
"It's not often that something totally new and entertaining comes along, but Kate SeRine doesn't disappoint with Red. I definitely recommend this to readers who want humor, drama, suspense, and a truly entertaining, "feel good" romance."—Kate Douglas
---
Excerpt
Prologue
Magic's a funny thing. It's seductive, addictive. There's no bigger rush than harnessing the elements and bending them to your will, experiencing that orgasmic release of energy as a spell bursts forth and alters time, space, reality. . . .
But the thing is, just when you think you've got magic under control, you come to find out it's actually controlling you.
And, once upon a time, a brash young fairy found this out the hard way.
Up until then, she'd been unstoppable—arguably the most powerful and talented fairy ever born, guardian to an ancient magic to which only the most gifted beings were privy.
She was also an arrogant, egomaniacal snob who needed a major smackdown.
And when that came in the form of a cosmic sucker punch from Aladdin's genie during a magic duel, her epic failure cast the characters from the land of Make Believe into the world of Here and Now, leaving those who'd once idolized her stranded in an unfamiliar place with unfamiliar realities.
Suddenly, the It Girl of legend was the most despised Tale this side of Make Believe, a pariah cast off by her own kind. Stripped of her titles, her name, her wings, her very essence, she was forced to scrape and bow and kiss ass just to get by—
            Ah, to hell with it.
There's no point in trying to sugarcoat it. This is my story. I'm the fairy whose sucktacular judgment and giant ego got all us Tales into this freaking mess. And I've been paying for it ever since. 'Cause if there's one thing Tales are good at, it's holding a grudge.
I'd give you my true name, but you wouldn't know it. My family was so pissed off by what I'd done, they had my name stricken from record long ago, erased from the collective cultural consciousness of the Ordinary humans who'd once spoken of me with reverence and awe.
These days I go by Lavender Seelie. And after nearly two hundred years of being shunned and reviled, I've had enough of the hackneyed, bullshit story of my so-called life.
Time to turn the page.
---
Awards
---
Playlist
The Fray
Snow Patrol (Called Out In The Dark)
Colbie Caillet
The Black Keys (Lonely Boy; Howlin' For You)
Gavin DeGraw
Norah Jones
Fine Frenzy
Ray LaMontagne
Apocalyptica
Finger Eleven
Skillet
Gotye
Priscilla Ahn (Dream*)
Florence and the Machine
Band of Skulls (I Know What I Am; Sweet Sour)
Holly Brook (What I Wouldn't Give)
Michele McLaughlin (A Celtic Dream)
Lucia (Silence)