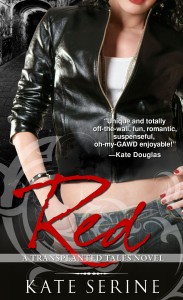 It's hard to believe, but three years ago my Transplanted Tales made their debut when Tess Little and Nate Grimm took center stage in RED. Since then, you've met Lavender and Seth, Trish and Nicky, Gideon and Arabella — and you even got a little extra dose of fun with another glimpse into the romance of Nate and Tess after their Happily Ever After. And then there's cocky, irreverent Merlin, who's turning out to be quite a nagging presence in my imagination, so I might eventually have to give in to his charms. 😉
I've had a marvelous three years hanging out with my Tales and sharing their stories with you, so it only seems right that we celebrate by throwing a party. And what's a party without presents???
I'll be giving away an ebook copy of one of my Transplanted Tales novels and some swag to three folks who enter using the Rafflecopter widget below. And one of you will win the grand prize — a paperback copy of one of my novels, gift card, tote bag, and some swag. Entries will be accepted from August 1st through August 31st.
Then on Thursday, August 27th at 7:00 p.m. (EST), I'd like to invite all of you to join me for a Transplanted Tales birthday party on Facebook . Details are still coming together, so make sure to follow me on FB for updates! Hope to see you all there!!
In the meantime, if you haven't started the Tales or need to get caught up, ALL four full-length novels are on sale for ebook for a limited time!! Look for them wherever Kensington ebooks are sold.
And, from the bottom of my heart, I thank all of you wonderful folks for being so warm and welcoming to my Tales and for loving them as much as I do. You ROCK!!