Here it is, folks! Check out the gorgeous cover for ALONG CAME A SPIDER, the third book in my Transplanted Tales series. And take a look at that wicked cool tat on Nicky's shoulder — it's exactly how I pictured it! Thanks to the folks at Kensington for another beautiful cover. 😀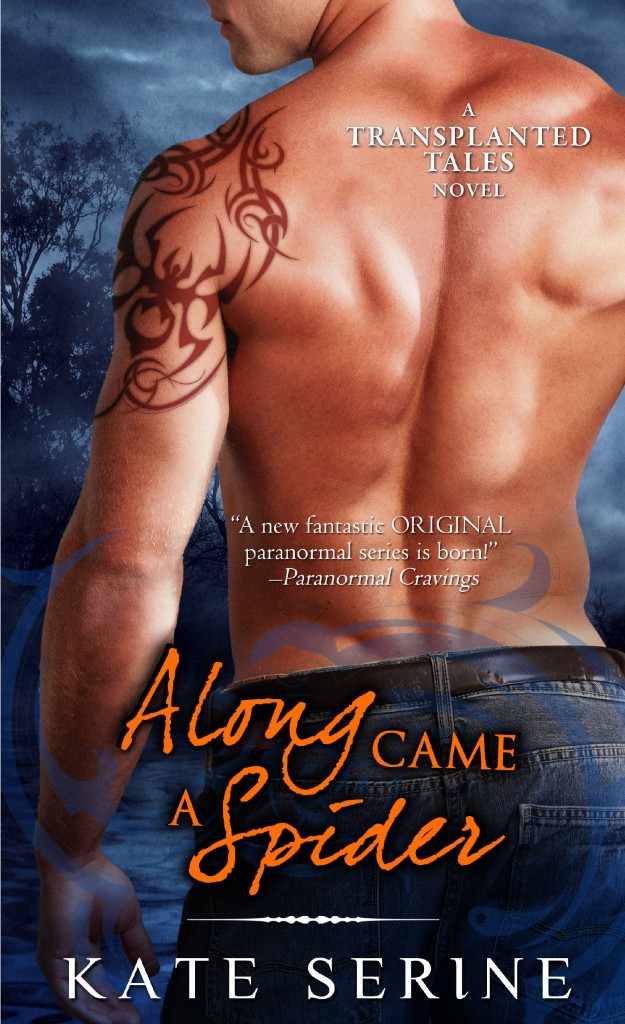 Along came a spider…
When Trish Muffet is attacked at a grisly crime scene, the last person she expects to come to her rescue is Nicky "Little Boy" Blue. But since walking away from everything two years before, Nicky's been doling out vigilante justice as "The Spider," taking on the vicious predators of the night in hopes it'll lead him to his ultimate target – Vlad Dracula. And he needs Trish's help.
Although Nicky's renegade style goes against everything Trish stands for, she'll do what she must to bring Dracula down. And with danger stalking her, Trish knows the only person she can count on is the one man who has the power to leave her breathless. There's no way she's letting this spider frighten her away…
Pre-order your copy!
*   Amazon   *  Barnes and Noble   *
* * * GIVEAWAY ALERT!!! * * *
To celebrate my new cover, I've decided to give away an ebook of either RED (Transplanted Tales #1) or THE BETTER TO SEE YOU (Transplanted Tales #2) and a $10 gift card! Just enter using the Rafflecopter widget here or at any of the particpating blogs listed below.
Cover reveal party participants:
A Purrfect Read
Book Lovin' Mamas
The Bookaholic Cat
Kimba the Caffeinated Book Reviewer
Kindle-aholic's Book Pile
Little Read Riding Hood
My World…in words and pages
Nocturnal Readings
Paranormal Cravings
Readers Confession
The Reading Cave
Talk Supe
Tonya Kuper
Urban Girl Reader
WTF Are You Reading?
Yummy Men and Kick Ass Chicks