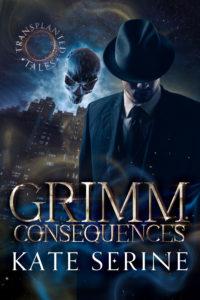 The 10-Year Anniversary Celebration of the Transplanted Tales continues with the latest cover reveal–this time for Grimm Consequences. I hope you love it as much as I do!
***
To put it lightly, Nate Grimm has a dark past. Fortunately, no one's bothered to look too closely at the Fairytale Management Authority's lead detective and part-time Reaper. And Nate wants to keep it that way. After centuries of torment and loneliness, he's finally found happiness with the hot and hard-charging love of his life, Tess "Red" Little.
Of course, his love for Tess is the reason there's a posse of Reaper judges after him, led by a sadistic bastard acquainted with Nate from once upon a time. Now, Tess will pay the price for Nate's transgressions unless Nate severs his ties to the transplanted Tales—and Tess—forever. His enemy has the advantage in speed, malice and brutality. But the Reapers have underestimated the depth of Nate's love. And the fury of his wrath.
Grab Your Copy
Amazon: https://amzn.to/3Srjddf
Apple: https://apple.co/3bwPhfo
Kobo: https://bit.ly/3Q2NkWQ