I'm so excited to take part in the official cover reveal of Kait Ballenger's debut novel, TWILIGHT HUNTER, the first book in her Execution Underground series! I can't wait to read this one, folks!!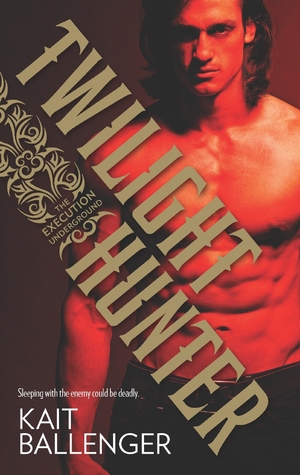 Author: Kait Ballenger
Title: Twilight Hunter (Execution Underground #1)
Publisher: Harlequin
Release Date: August 27, 2013
Hunters of the  supernatural, the Execution Underground are an elite group tasked with  protecting humanity…but what happens when danger collides with desire?
Jace McCannon has one loyalty: the Execution Underground. Despite his mixed  blood, his hatred for the werewolves he hunts is legendary. But in his  search for a sadistic killer, Jace finds himself face to face with a  stunningly seductive packmaster…and longing for a night with his mortal  enemy.
Nothing can stop Frankie Amato from defending her kind–or catching the rogue responsible for killing women in her territory. For  that, this alpha female needs Jace's skills more than she wants to  admit. But as their investigation exposes evil truths, need burns into a passion that dare not be fulfilled. For to do so will have deadly  consequences for them both…
You can pre-order your copy now!
And don't forget to check out Kait's prequel novella, SHADOW HUNTER, part of the AFTER DARK anthology!
Shadow Hunter…
Vampire hunter Damon Brock's first assignment with the Execution Underground is Rochester, New York, a city crawling with the undead.  But he isn't the only hunter in town gunning for vamp blood. Tiffany Solow is fierce and ruthless when it comes to slaying the monsters that destroyed her family-and she works solo. But being alone is no longer so desirable when she meets the mysterious hunter who wants more than just her turf. As they work to massacre the local covens, the line between good and evil blurs when they are forced to decide between their lifelong beliefs… and their new-found hearts.
You can pre-order your copy of this one, too!
Author Bio
Kait Ballenger is a full-time paranormal romance author, wife, professional belly dancer, and graduate student living in Central Florida. SHADOW HUNTER, the debut prequel of her sexy paranormal romance series, the Execution Underground, about an international network of supernatural hunters who fight to protect humanity alongside the powerful women they seduce, releases in an anthology titled AFTER DARK along with NYT Bestselling author Gena Showalter's novella THE DARKEST ANGEL on June 25th 2013. TWILIGHT HUNTER, book one of the EU series, debuts Sept 2013.
With a B.A in English from Stetson University, Kait is currently a student in Spalding University's M.F.A in Writing for Children and Young Adults program, where she studies dual-genre in screenwriting. She writes dark paranormal romance with drool-worthy heroes and kickass heroines as Kait Ballenger, and sassy YA urban fantasy under her maiden name, Kaitlyn Schulz.
When Kait's not preoccupied with paranormal creepy-crawlies, she can be found slaving over endless amounts of schoolwork or with her nose buried in a book. She lives in Florida with her husband, and doggie-daughter, Sookie (yes, like the heroine in Charlainne Harris' books), and two mischievous kittens, Elliot and Olivia (yes, like the Law and Order characters), near the love and care of her supportive family. Kait believes anything is possible with hard work and dedication. One day, she will be a bestseller and have people name their pets after her characters too.
Follow Kait:
Website: http://nocturnalreadings.blogspot.com/
Facebook: www.facebook.com/kaitlynschulzromanceauthor
Twitter: https://twitter.com/kait_ballenger
Goodreads: www.goodreads.com/author/show/5989661.Kait_Ballenger