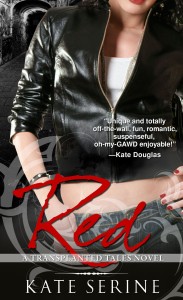 Yay!! I'm happy to report that RED (Transplanted Tales #1) is on sale for just $1.99 for a limited time at the following retailers:
Amazon  **  iTunes  **  Barnes and Noble  **  Sony Reader Store
If you've been wanting to read the Transplanted Tales, now is a great time grab a copy of Tess and Nate's story before their follow-up novella, GRIMM CONSEQUENCES, comes out in April 2014. These two are very close to my heart–I hope you'll fall in love with them, too!
"My name is Tess Little. But everyone calls me Red."
Once upon a time, a spell went awry, stranding Make Believe characters in the ordinary world.   Since then, Tess "Red" Little—a/k/a Little Red Riding Hood—has worked as an Enforcer for the Chicago branch of the Fairytale Management Authority. But, consider yourself warned—she's not just some waif with a basket of goodies. All grown up and with nothing to lose, a gun and combat boots is more her style. And Red's new assignment threatens to be short on happily ever afters…
Someone is murdering transplanted Tales in gruesome fashion. The list of fictional characters capable of such grisly acts is short and includes more than one of Red's old flames. And if that wasn't bad enough, there's another complication, in the form of sexy, enigmatic Nate Grimm, the FMA's lead detective and part-time Reaper. Used to following her own rules and living life on the edge, Red has managed to avoid taking on a partner until now. But Nate's dark side makes him perfect for a case like this. That is, if she can trust him. Because if there's one thing Red knows for sure, it's that believing in the wrong person can have big, bad consequences…
* * * *
Happy reading! 🙂