Protect & Serve #2
10 . 4. 16
---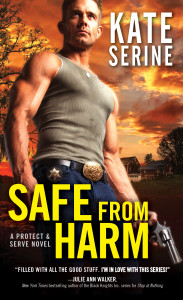 There's something about prosecuting attorney Elle McCoy that Deputy Gabe Dawson just can't get enough of. Even with Gabe's family legacy in law enforcement and promising career, Elle's smart, sassy rejection of all his charm makes Gabe want her even more.
But Gabe's confidence is shaken when he's shot on the steps of the courthouse, protecting Elle from a terrorist intent on revenge. Worse, Elle isn't out of danger yet. But as they race to counter the terrorist's next move, Gabe determines to prove to Elle—and himself—that he's a man worthy of her.
---
Praise for Safe from Harm
"With sexual tension that's off-the-charts steamy, the relatively common conflict between a good-hearted rogue and an honest woman is elevated to something deliciously page-turning. " – Publishers Weekly
"an exciting, tense, action filled story" – The Reading Cafe
"fascinating, gripping and intense" – Keeper Bookshelf
"Great romantic suspense!" – Becky on Books…and Quilts
"a bit gritty, a bit dangerous, and a whole lot of intriguing" – The Book Disciple
"Safe from Harm has a nice blend of suspense, action, and romance that will keep readers turning the page to find out what happens next." – Harlequin Junkie
"Once again SeRine has blown me away" – Crystal's Many Reviews
---
Excerpt
"Will you be okay here tonight on your own?" Elle asked as she strolled toward his front door, clearly moving slowly so he could keep up with her on his crutches.
He slid a meaningful sidelong glance toward her. "You offering to stay?"
She rolled her eyes, but he could see a hint of pink rising in her cheeks. God, he loved making her blush like that. The fact that he could bring a flush to the cheeks of a woman like Elle made his chest swell with pride. The only thing better would be making her flush with desire as he made love to her.
A sudden, vague image of her arching off his bed in ecstasy made his cock go rock hard, making him seriously fucking glad he was wearing his shirt untucked for once so she couldn't see the effect she had on him. God, she had to be beautiful in the throes of passion. What he wouldn't give to watch as rapture played out over her features, to hear her scream his name, to feel her nails digging into his skin…
"Do you ever stop?" she teased, leaning against the doorframe.
He shook his head, and his voice was rough with desire when he answered, "Not where you're concerned."
She turned toward him when they reached his front door and regarded him for a long moment. "Why?"
Her question took him off guard. "Huh?"
She tilted her head to one side, far more adorable than she realized. "Why are you so interested in me, Gabe? You can have any woman you want."
He scoffed. "Not true. My reputation has been greatly exaggerated. Right now, there's only woman I want."
She rolled her eyes. "Fine, for argument's sake, let's pretend that's true."
Pretend? What the hell?
Did she really buy into all the rumors about him sleeping with anything with a pulse? His false reputation had been haunting him since high school. Okay, his fault for not refuting them, but what teenage guy wouldn't want everyone to think he was a god in bed? And, now that he knew better, he was too old to give a shit what people thought.
"Why would you want to keep pursuing someone who has pushed you away over and over again?" she continued. "I mean, what's so special about me?"
He reached up and tugged at a curl that had come loose from her ponytail. "How long do you have?"
She grinned and patted him lightly on his chest, just above the bruises from the shots he'd taken, but he managed to keep from wincing. "Ah, so that must be the famous Dawson charm you keep mentioning…"
He leaned on his crutches, bending forward, close enough to kiss her. "Is it working?"
She shoved away from the doorframe and straightened to her full height, bringing her lips even closer to his. Her mouth curved into a sensual smile as she searched his face. Then she stepped closer, her arm slipping around his waist as she leaned into him, her breasts pressing into his chest as she put her lips close to his ear and whispered, "Not even a little, Romeo."
With that, she stepped back and winked at him before opening the door and sending a wave at him over her shoulder as she strolled toward her car.
Oh, she was good…
---
Awards

---
Playlist
This Wild Life
Ray LaMontagne
Band of Horses
KONGOS
The Heavy
Banks
Thousand Foot Krutch
Like a Storm
Nonpoint
alt-J
Fitz and The Tantrums