Protect & Serve Prequel Novella
---
EIGHT PASSIONATE LOVE STORIES ABOUT AMAZING MILITARY HEROES BY BESTSELLING AUTHORS:
Suzanne Brockmann, Julie Ann Walker, Catherine Mann, Tina Wainscott, Anne Elizabeth, M.L. Buchman, Kate SeRine, Lea Griffith.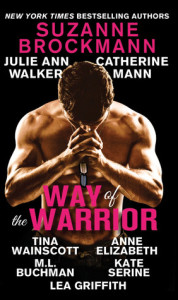 If not for Sadie Keaton, Joe Dawson's best friend since childhood and the woman he's been in love with for as long as he can remember, he can't imagine where he'd be. For the past year, Joe's been struggling with PTSD after returning home from Afghanistan with the wounds that have left him scarred—both inside and out. And Sadie's unwavering faith and support has been all that's kept him going. But when they finally share an unexpected moment of passion, Joe has a hard time believing that Sadie could have feelings for the damaged man he has become and worries that her heart is being ruled by pity and not love.
And those doubts are only compounded now that he's set to resume his duty as a deputy sheriff. With his father and three brothers already making names for themselves with successful law enforcement careers, the pressure's on, leaving Joe torn between honoring the family tradition and leaving behind the only career he's ever known outside the military. After all, he's heard the whispers, seen the sidelong glances, and knows what everyone's saying—the only reason he still has a job is because his father is the Sheriff. And he worries that they're probably right.
But when Sadie starts receiving messages from a secret admirer, messages that grow increasingly frightening and threatening, Joe has to put aside his self-doubt in order to save Sadie from the her stalker and put an end to the bastard's dangerous game before it's too late to confess the truth of his heart…
---
Praise for Way of the Warrior
"This is a must-read for every military romance fan. " – Publishers Weekly
"A heartfelt tribute to our military personnel and the sacrifices they and their families make. This anthology is a hands-down winner…" – Library Journal
"WAY OF THE WARRIOR is an amazing compilation from eight talented action/romance authors… " – Fresh Fiction
---
Awards
---
Playlist
Castle of Glass (Linkin Park)
What if I Was Nothing (All That Remains)
Better Man (James Morrison)
Wars (Hurt)
Erase My Scars (Evans Blue)
Make This Go On Forever (Snow Patrol)
Warrior (Evans Blue)
Pieces (Red)
All of Me (John Legend)
Storm Song (Philadel)
Soldiers (Otherwise)
Cold (But I'm Still Here) (Evans Blue)