Welcome to my stop on the FALL IN LOVE Blog Hop! Thanks to Jenese at Readers Confession and author Toni Aleo for hosting this fabulous Blog Hop!!
Although I don't typically write reviews of the books I read, I LOVE to recommend books that I've fallen in love with. And one of those books this year was Cecy's Robson's THE WEIRD GIRLS: A NOVELLA. The novella is a prequel to Robson's upcoming Urban Fantasy series, which debuts in December with SEALED WITH A CURSE.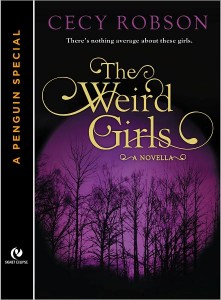 So, here's the scoop on THE WEIRD GIRLS:
Celia Wird and her three sisters are just like other 20-something girls—with one tiny exception: they're products of a backfired curse that has given each of them unique powers that make them, well, a little weird…

The Wird sisters are different from every race on earth — human and supernatural. When human society is no longer an option for them, they move in among the resident vampires, werebeasts, and witches of the Lake Tahoe region. Could this be the true home they've longed for? Um, not quite. After the sisters accidentally strip a witch of her powers in a bar brawl, they soon realize the mistake will cost them. Because to take on a witch means to take on her coven. And losing the battle isn't an option…
Why I fell in love with this novella:
I'm generally not a fan of prequel novellas because I feel like they too often read like a prologue for the novel and lack any substance. But I can guarantee you that is not the case with this one! THE WEIRD GIRLS reads like a full novel, just shorter. The plot is fully fleshed out and completely separate from the novels that are to follow and could easily stand on its own. That being said, the novella does an awesome job introducing readers to the Wird sisters, their conflicts (internal and external), their unique abilities, and their family dynamics.
And Robson has a knack for description that blew me away. Everything she described — whether it was the setting or the characters' emotional responses to the action — was fantastic! There's one scene with rats (which is one of my biggest phobias, by the way), that had me crawling out of my skin. I was there with Celia every moment of the story.
Speaking of Celia — she's a seriously kick-ass heroine! The battles were suspenseful, bloody, and action-packed without being over-the-top.
THE WEIRD GIRLS is also hilarious at times, offering a satisfying balance between action, suspense, and humor. I laughed out loud on several occasions, usually just when the story needed a little levity to lighten things up. Here's a sample of what you can expect:
"Witches were a lot like Jersey Girls. You didn't want to get in between two fighting. Fists, foul mouths, and fake hair would fly."
The central conflict between the sisters and a witch with a boulder-sized chip on her shoulder is fabulously done and definitely kept me turning the pages. But even more enticing to me on a personal level was how beautifully Robson portrayed the relationship that Celia has with each of her sisters. There was one scene in particular that was so gut-wrenchingly painful to read, I was in tears (and that's a compliment).
Basically, Robson's novella is skillfully written, engaging, action-packed, witty, and damned funny. It grabbed me from the first page and didn't let go. I hope you'll give this series a try when it debuts in December!
And if you want to run out and pre-order the novella and/or SEALED WITH A CURSE, I will be giving away a $10 gift card to either Amazon.com or Barnes and Noble (winner's choice) as part of the Blog Hop to get you started.
And don't forget to hop over to visit the other bloggers taking part in the blog hop to find out who they fell in love with this year and have a chance to win other fabulous prizes!


As a special treat, co-hostess Toni Aleo is even giving away a Kindle Fire to one lucky hopper: www.tonialeo.com.
Thanks for stopping by, folks — and happy reading!