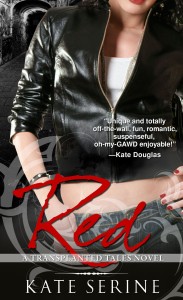 I am so incredibly excited to announce that RED (Transplanted Tales #1) has won the National Readers' Choice Award in the paranormal romance category! I couldn't be more thrilled!!
Special thanks to the members of Oklahoma RWA, who sponsored the contest, and to the judges who gave their time to read and score all of the entries. I'm so honored to have been selected!
And I also have to say thank you to my agent, Nicole Resciniti, and all the folks at Kensington — especially my editor, Alicia Condon. Hugs all around! XOXO
Check back here Monday, July 22nd, for some other exciting news about my Transplanted Tales, and for your chance to win a signed paperback copy of my award-winning novel and some Transplanted Tales swag!