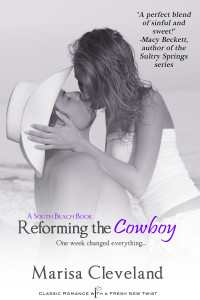 I'm so excited to have author Marisa Cleveland visiting today! Marisa is one of my agency sibs at the Seymour Agency and is one of the sweetest people you'd ever meet! But don't let her adorable smile or sweet ways fool you — her contemporary romance novels are H-O-T!! Here's a little bit about her debut novel, REFORMING THE COWBOY:
Country singer Billy Hardy needs to get back on the charts. His manager assures him headlining the opening of a cafe in South Beach is his best chance at getting back to the big time. If he fails, his career is over for good this time.
Lacey Durant can't believe opening night includes the country singer she crushed on through college. And her customers agree he's dreamy. But his playboy reputation threatens her cafe's image and she can't afford that. She insists Billy stay with her so she can keep an eye on him, and thwart overenthusiastic fans.
KS: Welcome, Marisa! Thanks so much for dropping by!
MC: Hi Kate! Thanks so much for having me! I love your blog, and I'm really excited to be a guest with you today.
KS: Why don't you start by telling everyone a little bit about yourself.
MC: Right now, I'm a contemporary romance writer enjoying the journey one sunset at a time.
KS: I can't wait to read REFORMING THE COWBOY, the first full-length novel in your South Beach series!!! Without giving any spoilers, can you tell everyone what they can expect?
MC: What a tough question! *nervous laugh* Since it's a contemporary romance novel, readers can expect a happy ending. They can expect a couple hours of feel great reading where they get a peek inside the lives of two people finding friendship and love. At least that's what I was hoping to write. *big grin*
KS: What was the inspiration for REFORMING THE COWBOY? How did this particular novel come about?
MC: I'm definitely inspired by everything around me. This one was fun, because my best friend helped me plot it so wonderfully. But the actual idea stemmed from The Voice. I rarely watch T.V., but one night I put down a book to watch Blake Shelton. It was crazy for me to stop reading because of a T.V. show. I blogged about it here: http://marisacleveland.wordpress.com/2013/09/21/because-of-blake-shelton/.  
KS: So, why South Beach for the setting? What about this location makes it perfect for a contemporary romance series?
MC: I love South Beach! My hubby and I take trips there, and it's like entering another dimension from our everyday lives. It's sunny like 250 days of the year. Plus, South Beach has it all. Shopping, Starbucks, beaches, hotels, the Art Deco district, people-watching, Palace, bars, restaurants, entertainers, volleyball, parasailing, puppies! So much I'm not listing here… Basically, it's a hub for HEA or HFN!
KS: It sounds like Billy Hardy is definitely a man in need of reforming… Could you give us a little glimpse into what we can expect from this super sexy Country singer?
MC:
[BILLY] "Back in the day I could slam out an entire album in one weekend."
[LACEY] She laughed. "I remember reading that. With a bottle of Patrón, a notebook, and a pen."
KS: How about Lacey Durant? What's the most important thing for readers to know about her?
MC: She's the girl I wish I had for a friend. She's opening a cafe exactly like the one I'd love to hang out in every night, and even though she's had an unlucky streak with men – namely her lying, cheating, good for nothing ex – she's determined to move on and succeed.
KS: How many books are currently planned for the SOUTH BEACH series? Anything you can share about the next book?
MC: My super, wonderful, amazing agent sold my South Beach series in a three-book deal! I wrote a novella that was released last February, and book two is in edits right now. I love this book, because it's with Beth, the lawyer, and of course my research had to include law firms. I have one Montblanc. Some lawyers have ten on their desks!
KS: What drew you to contemporary romance? Did you always know that this was a genre you wanted to pursue? What writers inspire you?
MC: I've been reading romance novels since I was twelve years old. Probably younger, but twelve is when I remember realizing that romance was my favorite genre. Before twelve, I would choose books from all over the bookstore. After twelve, I preferred the romance section over thrillers or mysteries. When I taught high school students, I wrote a light paranormal young adult novel. I still love that novel, and I might return to that age group one day, since I love to read it as well, but everything fell into place the moment I wrote an adult contemporary romance novel. 
KS: Is there anything exciting on your TBR list that you'd like to share?
MC: I have so many piles of print books in neat little stacks around my house, and there are so many digital books I'm dying to read! I can't wait to read the other Indulgence books that released with mine this month.
KS: So, what has been the most exciting moment in your publishing journey so far? Anything you'd change if you could do it over?
MC: The most exciting moment? Every moment! I try to enjoy the journey as it's happening, even the bad stuff, because I can usually find something good. It took me a long time to reach that point, but I made it, most days, and I wouldn't change anything – except maybe that one night I sobbed for hours and ate pizza and fries and was sure my world was ending. But it's all good now. One – or eight – shots later, I found my perspective.
KS: Thanks so much for coming by for a chat today, Marisa!
MC: Thanks again for having me! I love to connect with other readers and writers through social media. My website (www.marisacleveland.com) lists all the familiar places to find me.
Here are all the other places you can find Marisa:
Website – http://www.marisacleveland.com
Twitter – http://twitter.com/marisacleveland
Facebook – http://facebook.com/marisacleveland00
Google Plus – http://plus.google.com/102206201174009013772
Pinterest – http://pinterest.com/marisacleveland
Tumblr – http://marisacleveland.tumblr.com
Goodreads – http://goodreads.com/marisacleveland
And if you'd like to run out and buy REFORMING THE COWBOY, here are all the buy links:
Amazon  **  Barnes and Noble **  iTunes
And Marisa is hosting an awesome release party giveaway! Click HERE to enter! 🙂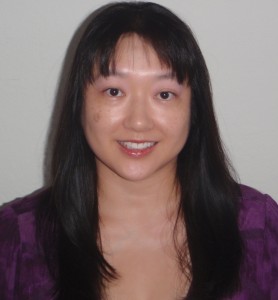 Author Bio:
Marisa Cleveland loves to laugh, hates to cry, and does both often. As a writer, she writes. Every day. If she couldn't express herself through writing, music, and dance, she would die. Perhaps because she married her best friend, her adult romance novels focus on playfully naughty relationships developed through friendship and family-oriented values. She believes romance novels are the perfect "how to" books, because no matter the obstacles, the characters keep working toward their happily ever after. She loves to connect with writers and readers through social media. Visit her website (www.marisacleveland.com) to find where she is online.